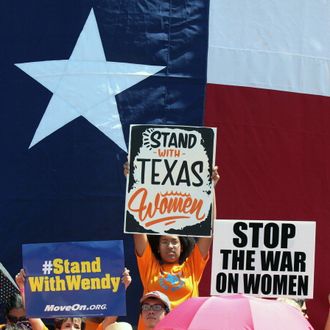 Photo: Erich Schlegel/Getty Images
The Supreme Court has blocked parts of a 2013 Texas law that would have closed all but eight abortion clinics in the state, with none operating west or south of San Antonio. The Supreme Court's order put a hold on a federal appeals court ruling earlier this month that allowed the law to go into effect immediately.
The high court's ruling, which was five sentences long and offered no explanation, blocked the requirement that abortion clinics meet the standards of ambulatory surgical centers. A provision that required doctors to have admitting privileges at a nearby hospital was also blocked, but only for clinics in McAllen and El Paso.
"Tomorrow, 13 clinics across the state will be allowed to reopen and provide women with safe and legal abortion care in their own communities," said Nancy Northup, president of the Center for Reproductive Rights. The law is still being debated in court, or as Northup put it, "This fight against Texas's sham abortion law is not over."