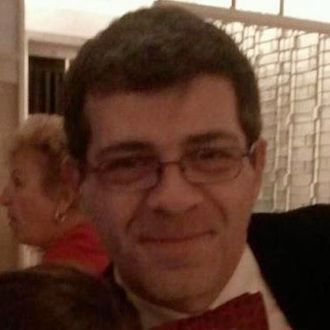 Photo: Sean Shaynak/Facebook
At this point, it seems obvious that Sean Shaynak should not have been around kids. The 44-year-old aeronautics teacher at Brooklyn Technical High School was arraigned yesterday on 36 sexual-abuse charges involving six girls, ages 13 to 19, allegations that bubbled up after he was arrested for Snapchatting a different student a dirty picture. But today, the New York Times has another upsetting story of a different kind, from before Shaynak started teaching: In 2005, he had a restraining order filed against him in Maryland after allegedly wailing on a child.
According to DeVonte Watson, who was 11 at the time, Shaynak attacked him after he hit his house with a rock. "I got beat up really bad," Watson, now 20, tells the Times, remembering Shaynak punching him repeatedly. "As soon as I turned around, he jumped on me and started pounding my face in." The teacher's lawyer now says Shaynak's infant daughter — worth highlighting: he has a daughter — was sleeping on the porch at the time and that the grown man "didn't beat [Watson] up." A criminal charge was reportedly filed, but expunged.
Four years later, Shaynak got his teaching certificate in New York, and ended up at Brooklyn Tech, the exclusive public school attended now by Dante de Blasio, the mayor's son. "That man should have never been a teacher," says Watson. "He was crazy."