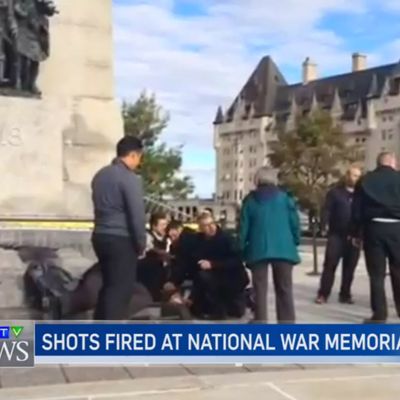 One suspect is dead and another thought to be on the loose after three shooting incidents near Canada's Parliament in Ottawa. Canadian forces have confirmed that a soldier has also died after being shot at the Ottawa War Memorial. His name is being withheld until next of kin are notified.
The first suspct was killed in a shootout with the House of Commons sergeant-at-arms, and police have downtown Ottawa schools on lockdown as they search door-to-door for the second shooter.
Canada raised its terror alert level on Monday after two soldiers were hit by a car in what was thought to be a terrorist attack. 
Globe and Mail reporter Josh Wingrove live-tweeted what happened inside the building:
The police have released a description of the suspect:
Police assembled quickly, and, as usual, gave some trouble to the reporters:
Wingrove also provided video footage of authorities and a gunman exchanging fire:
Initial reports say more than one shooter may be involved:
We'll update as more information becomes available.