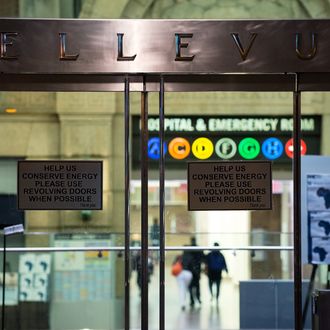 Photo: Bryan Thomas/2014 Getty Images
A child who returned to New York City from Guinea on Saturday night is under observation at Bellevue Hospital after his fever hit 103 degrees, ABC News reports. According to the health department, he was immediately placed in isolation with symptoms of the virus. Health commissioner Mary Bassett said test results are expected by early afternoon, while five members of his family are already under quarantine at their apartment, says the New York Post.
Meanwhile, Dr. Craig Spencer, New York City's only confirmed Ebola case at the moment, is reportedly improving. "The patient looks better than he looked yesterday, but he remains in serious but stable condition," said Dr. Ram Raju, president of the New York City Health and Hospitals Corporation, at a press conference on Sunday. "He tolerated the plasma treatment well [from an aid worker who had been ill with Ebola] and had a good night's sleep."
Kaci Hickox, the nurse quarantined under New Jersey and New York's controversial and since-softened policy, remains stuck in a room with a portable toilet and no shower despite showing no symptoms. She called her treatment "inhumane," but could be released as soon as today.
Governor Chris Christie explained his reversal to the Times. "She didn't want to be there. She made that clear from the beginning," he said. "It's always been about her condition. And if her condition permits release, then we will work with the state officials in Maine to make sure she could go home. Our preference always is to quarantine people in their homes."
The governor also tweeted the following statement from the New Jersey Department of Health: