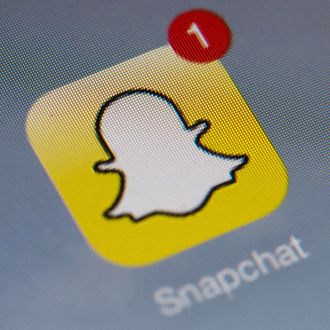 Photo: Lionel Bonaventure/AFP/Getty Images
You know you'll end up regretting it, and yet you feel powerless to stop yourself — your butt just looks so good in those pants! You've got to snap it to your friends. Well, you'd better hope none of your friends are using the third-party client SnapSave.com, because according to Business Insider, it may have just been hacked.
Snapchat has become the sext-trading app du jour because it (supposedly) doesn't save your photos, which disappear from the recipient's screen after no more than 10 seconds. But users can sign into their Snapchat accounts within third-party web clients like SnapSave, which then save incoming snaps for repeated viewing.
Now a set of hackers have claimed on 4chan that they've hacked into SnapSave.com and managed to gain access to 200,000 private Snapchats. The site went defunct several months ago, but hackers claim to have gotten access to the pictures before then. In a move called the Snappening (ugh), the hackers have released the photos, and some 4chan users are in the process of organizing them into a database where people could search for photos by Snapchat username.
Snapchat's response to all of this? Welp, ya shouldn't have used third-party apps then.
Of course, if everyone actually read and followed the terms of service for every social network, there would be no social networking. But blaming other services is an easy way for Snapchat to distance itself from the security flaw.