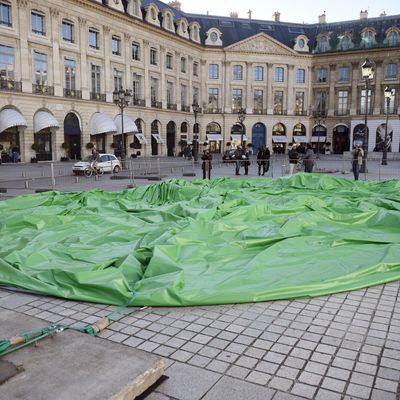 There is no longer a giant butt plug in Paris. According to French police, some uptight Parisians deflated the 79-foot inflatable sculpture by American artist Paul McCarthy overnight.
From The Telegraph: "In the early hours of Saturday, vandals climbed a metal fence around the exhibit, cut the power supply to a pump that kept it filled with air, and severed one of the straps that held it upright." The piece — which was called "Tree" because it might have looked a little like a Christmas tree to someone who had never seen a butt plug — got a lot of criticism over the two days it was installed at Place Vendome, with one person dropping by to slap McCarthy in the face and scream, "You're not French and this has no place in the square." 
According to The Telegraph, McCarthy does not intend to repair the sculpture. Paris is now just slightly less magical.