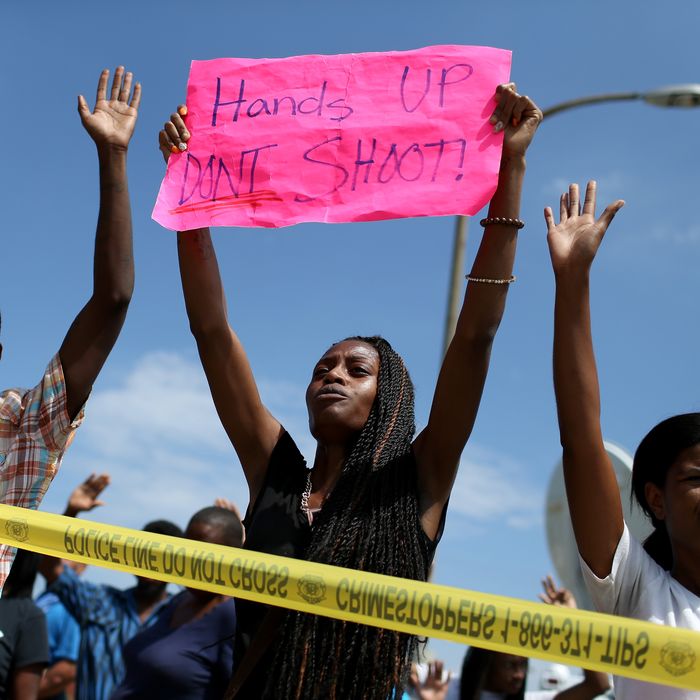 Protesters in St. Louis on August 19, 2014.
Photo: Joe Raedle/2014 Getty Images
Angry and hurt protesters took to the streets in St. Louis on Wednesday night after a police officer shot and killed an 18-year-old in the Shaw neighborhood, near where 18-year-old Michael Brown was fatally shot in August. According to the St. Louis Post-Dispatch, police and protesters have wildly different versions of how the shooting occurred. Police say four pedestrians fled after they were stopped by an off-duty officer on Wednesday at 7:30 p.m. The officer chased one of the men, later identified as Vonderrick Myers Jr., and claims the teenager jumped out of some bushes, struggled with him, then pulled out a gun and shot at him. The officer says he returned fire, killing Myers.
Several witnesses say Myers was unarmed. "He had a sandwich in his hand, and they thought it was a gun," said Teyonna Myers, the victim's cousin. "It's like Michael Brown all over again."
According to relatives at the scene of the shooting, which is about a 25-minute drive from Ferguson, Myers worked in a warehouse and attended high school. "My nephew was coming out of a store from purchasing a sandwich. Security was supposedly searching for someone else. They Tased him," said Jackie Williams, who said he talked with several witnesses. "I don't know how this happened, but they went off and shot him 16 times. That's outright murder."
Lavell Boyd, who lives nearby, told the Post-Dispatch that he heard 14 or 15 shots while on his way to get food at a nearby store. "When I pulled up I saw the cop standing over him (Myers) then he pointed the gun at everyone else telling everyone to get back while he was searching for another clip," Boyd said.
Police released this statement to BuzzFeed:
An officer working department-approved secondary for a security company, wearing a St. Louis Police Officer's uniform was in the 4100 block of Shaw when he attempted a pedestrian check. The male suspect fled on foot. The officer pursued the suspect. The suspect turned and fired a gun at the officer. Fearing for his safety, the officer returned fire striking the suspect, fatally wounding him. The officer was not injured. A gun was recovered from the scene. The officer is a 32-year old white male. He has been on the force for 6 years. The suspect is a black male believed to be 18-20 years old. As is department policy, the officer has been placed on administrative leave. The investigation is ongoing.
A crowd soon formed on the block, creating a scene that's become familiar in the wake of Brown's shooting. Some reported hearing gunshots in the distance, and the back window of a police SUV was knocked out.
Police have blocked traffic, but they appear to be keeping their distance. So far there have been no reports of arrests.
Update, 3 a.m. ET: At an early-morning press conference, St. Louis Police Chief Sam Dotson offered some more details about the incident. According to local CBS affiliate KMOX, Dotson said Myers's sweatshirt came off during the struggle, and it was clear to the officer that he had a gun. Myers allegedly ran up a hill and turned, then opened fire.
He was able to shoot three rounds, but his gun jammed. The officer then shot 17 rounds, killing Myers. Dotson did not name Myers but said the victim "was no stranger to law enforcement."