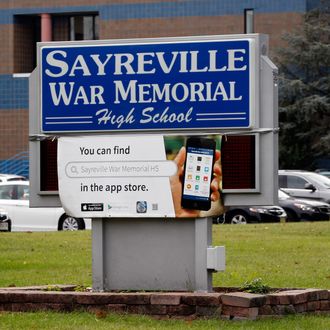 Photo: Mel Evans/AP/Corbis
Almost as soon as news broke a few weeks ago that the Sayreville War Memorial High School football season had been canceled owing to a hazing scandal, students took to Twitter to defend their town and the athletic program they believe unifies it. They rallied together online, dissing local news crews and the superintendent, planning pep-rally protests, and arguing over which colors to wear to school to represent their rebellion.
Few students actively defended the senior football players who were charged with sexual assault and hazing last week, but many expressed their disappointment that the players who hadn't participated in the rituals were punished with a canceled season. The New York Times captured some of these tweets in their story this morning, and we've unearthed some new ones. Here's what Sayreville students have to say about the football scandal that has already come to define their coastal New Jersey town.
Many students expressed anger — at the administration, at the arrested seniors, and at the students and parents who reported the hazing.
Many students stood up for George Najjar, the football team's head coach, who has faced calls for his resignation.
Some students even created and signed a petition, addressed to the Sayreville Board of Education, demonstrating their support of Najjar.
Most tweets were dedicated to expressing pride in the Sayreville community and its football team.
And then, of course, there are the jokes.