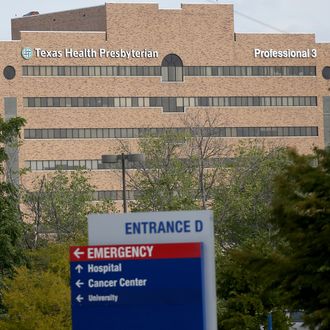 Photo: Joe Raedle/2014 Getty Images
Well, it happened. Someone who came into contact with the recently deceased Thomas Eric Duncan — the first person to be diagnosed with Ebola in the United States — has tested positive for the virus, officials announced on Sunday. The Centers for Disease Control is conducting another test to confirm the diagnosis today. According to CNN, the new Ebola patient is a female nurse at Dallas's Texas Health Presbyterian Hospital, where Duncan was treated. 
Dr. Daniel Varga, a representative for Texas Health Presbyterian, said the nurse helped care for Duncan when he was brought to the emergency room on September 28, having been released three days ago for reasons that remain unclear. "This individual was following full C.D.C. precautions [when interacting with Duncan]," Varga said. "Gown, glove, mask and shield." But, as the CDC's Dr. Tom Frieden said on Sunday, "even a single lapse or breach" in otherwise effective Ebola-treatment protocols "can result in infection." Frieden described the patient's contact with Duncan as "extensive."
The nurse, who reported a low-grade fever on Friday, has been isolated and is reportedly stable. (A "close contact" of hers has been "proactively" isolated as well, Varga said.) Meanwhile, Dallas mayor Mike Rawlings said hazmat workers had already decontaminated her apartment complex, the car used to get her to the hospital, and the hospital's parking lot. And, of course, officials are now working to trace and monitor everyone the patient may have exposed to Ebola.