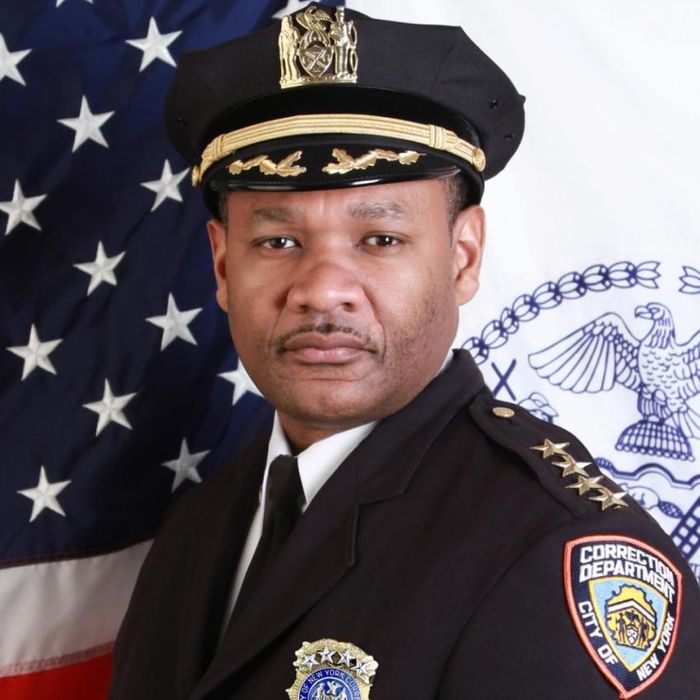 Three top enforcers at the NYC Correction Department are out, the New York Times reports, amid a flurry of terrible press and subsequent political pressure over the "deep-seated culture of violence" and "pervasive climate of fear" at the prisons. Among them is the top uniformed officer and chief of department William Clemons, who was promoted five months ago despite having "abdicated responsibility for the facility's reporting of inmate fights and failed to supervise, manage, or oversee the facility's reporting of violence statistics" while warden at the juvenile jail, according to an internal report that was later scrubbed of his name. (The raw version of the report recommended Clemons be demoted.)
Mayor de Blasio's correction commissioner Joseph Ponte says he had not seen the unedited report before giving Clemons, a 29-year department veteran, a big new job. Also on their way out are bureau chief of administration Joandrea Davis and bureau chief of facility Gregory McLaughlin, both of whom were also recently promoted, the Times reports.
Rikers has been plagued by reports of abuse in recent months and a U.S. attorney's report over the summer said, "For adolescent inmates, Rikers Island is broken." Ponte, in a statement about Clemons's retirement, said the officer "was a model of stability in a tumultuous time."
City Council Speaker Melissa Mark-Viverito disagreed, calling Clemons "clearly incompetent" in her own statement. "For too long, the Department of Correction has been rife with the mismanagement and mistreatment of inmates, and the Council's oversight has only served to further shed light on the deep-seated issues plaguing the D.O.C.," she said. The mayor appointed three new people to a civilian oversight board today.
Last month, the Times reported that Clemons oversaw an unrealistic drop in the reported number of fights among inmates but didn't bother to ask why the data experienced "dramatic and inaccurate decreases." In his own defense, the Times reported, Clemons "said he found the spreadsheets difficult to read on his computer and could not figure out how to print them."