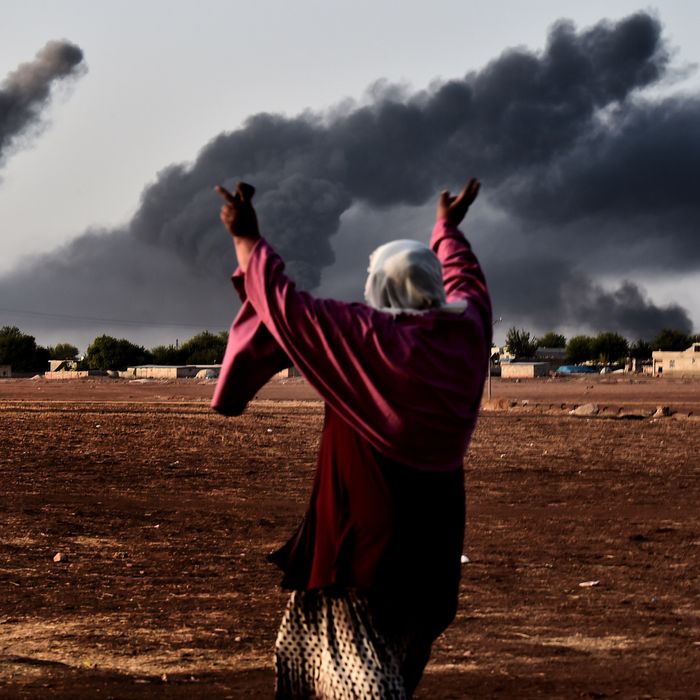 Photo: Aris Messinis/AFP/Getty Images
Despite reports to the contrary, Turkish officials dismissed claims on Monday morning that the country had reached a deal allowing U.S. forces to use its Air Force bases to launch attacks against militants. One of Turkey's return demands is the creation of a no-fly zone in Syria, which would force the U.S. to take a stand about the future of Syrian leader Bashar al-Assad.
The announcement came after a rough weekend of fighting in Kobani, the besieged Kurdish town on Syria's border with Turkey: An ISIS militant carried out a suicide attack near the border Monday, when he detonated a truck filled with explosives in Kobani's northern district. The attack wounded at least two Kurdish fighters.
Reports say the attack was meant to open up a path deeper into Kobani for the terrorist group, which is also believed to be redirecting fighters from other battlegrounds into the city. (It has been trying to overpower the largely Kurdish opposition fighters since mid-September.) Unlike ISIS, Kurdish fighters have not been able to get reinforcements from Turkey's Kurdish population because Turkey is refusing to allow them through the border to fight. 
U.S. air strikes have been ineffective at slowing the militants' advance on the city, but Kurdish leaders say People's Protection Unit forces have seen some luck fighting the terrorists. "[ISIS] tried to advance towards the [border] crossing but the People's Protection Units repelled them … and they were not able to push forward," said Kobani official Idris Nassan. Yet even before the weekend and the suicide attack, ISIS controlled as much as 40 percent of the city.