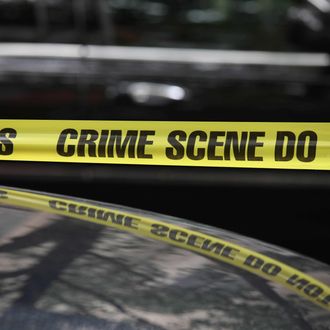 Photo: Rob Kim/Getty Images
A stray bullet killed the man who intervened during a police confrontation with an armed suspect Monday, according to a ruling by the medical examiner. 
Rafael Laureano was apparently summoned to the scene of the shooting by Kathy Russo in the early evening, after Russo's ex-boyfriend tried to enter her apartment. Later, the ex-boyfriend, Francisco Carvajal, returned with a knife, and he and Laureano faced off while Russo hid with her kids in a bathroom. According to the New York Times, Laureano left the apartment sometime after that and encountered police on their way to investigate the situation.  
Russo was screaming during this time because though she had managed to take away one of Carvajal's knives, he had another. Police say that as they entered the apartment, Laureano ran back in ahead of them and was hit as they fired over a dozen times at Carvajal while shouting, "Drop the knife!"
"It looks like he was inadvertently hit," said NYPD spokesman Stephen Davis.
Sounds clear-cut, right? A man accidentally shot during an intense, high-stakes situation involving an armed assailant with children nearby? It should have been, but police initially said Laureano had died from stabbing wounds — of which he had none, according to the Times.