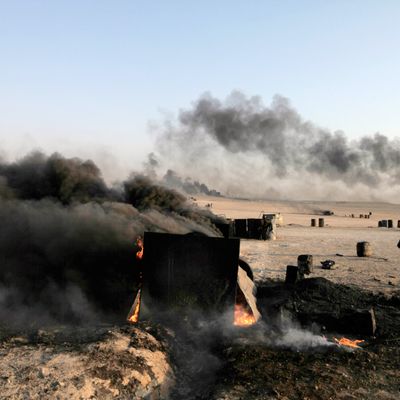 Photo: Hamid Khatib/Reuters/Corbis
The United States may be a capitalist haven, sure, but those freedoms don't extend to buying oil from terrorist groups. According to an announcement made Thursday, officials are planning to impose sanctions on middlemen and third-party actors who attempt to funnel oil from ISIS extremists into mainstream markets.
ISIS reportedly makes over $1 million daily from oil sales, and it's capable of producing up to 50,000 barrels a day. They sell it at about a 25 percent discount on the black market. Combating sales means tracing the few identifiable strands of information back up to the terror group.
"With the important exception of some state-sponsored terrorist organizations, ISIL is probably the best-funded terrorist organization we have confronted," said Treasury undersecretary David Cohen. "The middlemen, traders, refiners, transport companies, and anyone else that handles ISIL's oil should know that we are hard at work identifying them, and that we have tools at hand to stop them."
Much of the contraband oil makes its way through Turkey, possibly following the same routes taken by ISIS recruits. The hope is that American sanctions on these dealers will be replicated by other countries and institutions, slowly but surely backing them into a corner where the sale of ISIS oil is unprofitable. 
Of course, oil isn't the only way ISIS keeps its wallets full. The militants are also known to engage in bribery, extortion, and to demand ransoms for people they kidnap. All that adds up to hundreds of millions of dollars a year.