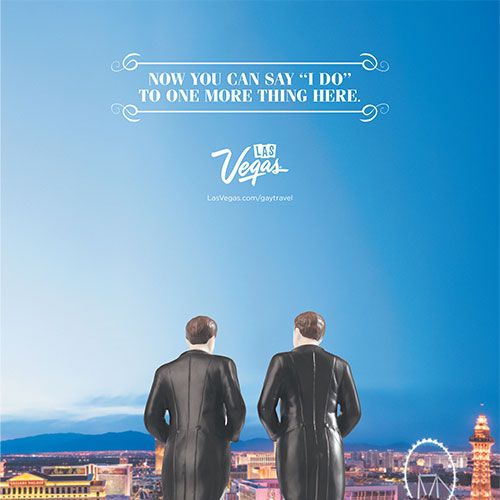 This ad was supposed to run in USA Today Wednesday but had to be pulled.
Well, at least nobody can accuse Nevada of hastily stumbling down the gay-marriage aisle only to wake up the next day full of regrets. Two full days after the Ninth Circuit Court of Appeals cleared the way for the self-described Marriage Capital of the World to finally become a marriage-equality state, county clerks began issuing licenses late Thursday — and the ever-aggressive casino and tourism industries raced to proclaim Sin City's wedding sector open to the gays.
All that legal chaos — first there was a stay on the court edict, then there wasn't, then it wasn't clear, then the anti-gay group that tried to stop it dropped their opposition, then the Bush-appointed federal judge who had to sign the final order was missing for four hours — ended jubilantly for couples who had lined up in eager anticipation. For all of Vegas's weirdness, though, it all went pretty much the same way it did in Utah and West Virginia and Iowa and so many other states that beat them to the punch: a parade of strikingly average-looking couples — not a sequin or bustier in sight — snaking through the bureaucratic maze of an antiseptic government office to sign some documents and head off to say their vows. There probably weren't wedding-chapel shills outside offering cut-rate deals on Elvis-impersonator officiants in any of those other places, but still.
For the destination as a whole, the starting gun means a chance to make up for a great deal of lost time. Nevada voters in 2000 and 2002 amended the state's constitution to bar same-sex marriage, an effort opposed even then by the casinos and the Las Vegas Convention and Visitors Authority. Those votes prevented a city supposedly known for its anything-goes ethos from partaking of the multi-million-dollar bounty enjoyed in recent years as New York, California, and Hawaii established themselves as gay-wedding destinations.
"It's certainly meant we've lost some economic impact that we could have recognized sooner, but the best part is we're behind that now. We can move forward, and we can now truly welcome everyone," said Jim McMichael, the LVCVA's diversity and cultural marketing manager.  "It's a great day for Las Vegas."
So eager has the city been for this moment that on Wednesday, the LVCVA placed — then had to pull — a full-page ad in Thursday's USA Today trumpeting the change. "Now You Can Say 'I Do' To One More Thing Here" the ad read, a pair of groom cake-toppers peering over the neon skyline. Licenses were expected to begin being issued on Wednesday, the day after the Ninth Circuit Court of Appeals struck down as unconstitutional gay-marriage bans in Nevada and Idaho. A series of bureaucratic and legal goofs and impediments prevented that from happening until about 5 p.m. local time on Thursday, so the ad may run next week.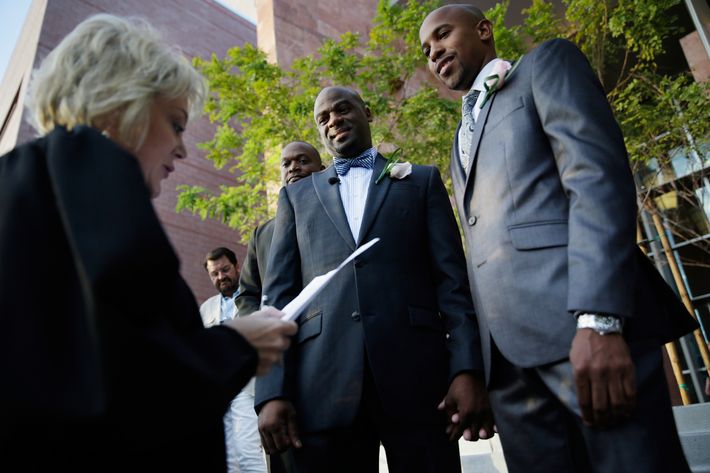 One intriguing sidelight is the decision to run the ad in a general-circulation newspaper. Although Vegas has poured millions in the past decade into marketing to LGBT people, it has generally segregated its gay-specific ads to gay media outlets and websites. Those separate appeals will continue, McMichael said, but they also plan to update LasVegas.com with LGBT wedding-package information and instructions for obtaining licenses in Clark County.
Vegas was left out of the marriage-equality bonanza at a time when the local economy was feeling the heavy effects — including sky-high unemployment and foreclosure rates — of the Great Recession. In June, the Williams Institute at UCLA projected that Nevada would enjoy a boost of as much as $52 million in spending in the state in the first three years of legal same-sex marriage. But that may understate the economic benefits, as the study focuses mainly on revenues from Nevada residents who marry and doesn't account for tourists.
The state remains the nation's marriage champ, but it has been losing its footing. In 2013, Clark County issued about 80,000 marriage licenses, down substantially from 2004 when the county issued 128,000. Reno, in fact, issued just 8,000 licenses last year, its lowest number since 1937.
Same-sex marriage, then, offers much-needed new opportunities. First, though, the destination will need to overcome not being an early adapter, said Bob Witeck, a Washington-based marketing specialist who advises American Airlines and Marriott on appealing to LGBT customers. "Let's put it this way: Time heals most wounds," Witeck said. "The Vegas brand has a tremendous power, but now they're one player of many. They failed to take advantage of a leading edge. You don't get there grudgingly. You move there fast."
State senator David Parks, Nevada's first openly gay elected official and someone who has made a career of pushing for pro-gay laws, agreed that an important business opportunity has already passed. "The train left the station, and we were still standing on the platform," Parks said. "I don't see that we're likely to recover that."