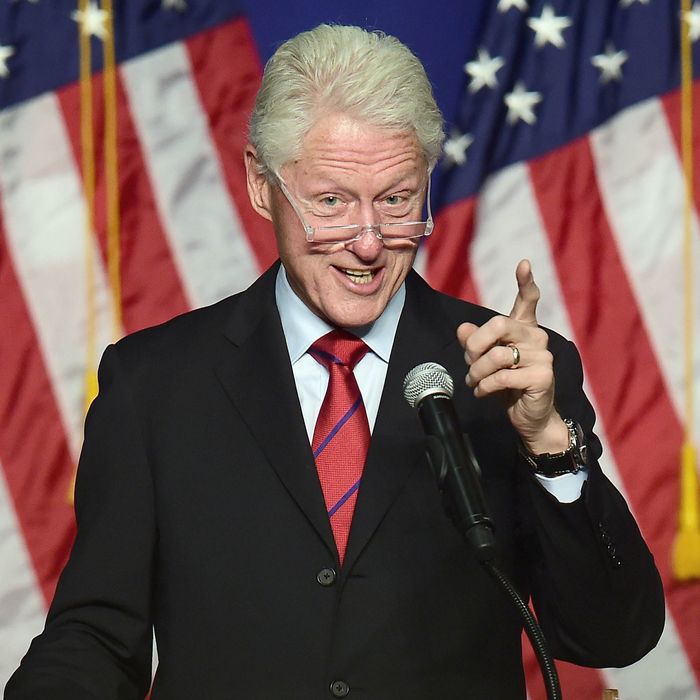 Photo: FREDERIC J. BROWN/AFP/Getty Images
If you're like most Americans, you aren't following the midterm elections. They do seem sort of boring, but much like skipping Kourtney and Khloe Take Miami, if you don't watch, next season you'll be confused about why everyone is angry at some guy named Scott.
To help you keep up, we at Intelligencer are providing a daily recap of the most interesting events on the campaign trail. Today's wrap-up includes plenty of preliminary 2016 drama, with appearances by Jeb Bush, Hillary Clinton, Bill Clinton, Scott Walker, Marco Rubio, and Rand Paul. It's basically that one episode where Kim comes to visit.
Jeb Tries Out New Material
On the campaign trail last week, Hillary Clinton remarked, "Don't let anybody tell you that it's corporations and businesses that create jobs." She claims she just "shorthanded" a reasonable point about trickle-down economics, but Republicans have already decided it's the "You didn't build that" of 2016.
On Wednesday night Jeb Bush took a jab at his presumptive rival during a rally for various Republican candidates in Colorado. "This last week I saw something that was breathtaking, a candidate — a former secretary of state who was campaigning in Massachusetts — where she said that, 'Don't let them tell you that businesses create jobs,'" Bush said. As the crowd booed, he continued, "Well, the problem in America today is that not enough jobs are being created [but] they are created by business." Luckily, he has two years to come up with something punchier.
Crist Was Against Bill Clinton Before He Was for Him
This week's other Clinton-related feud is actually between Charlie Crist, Florida's 2014 Democratic gubernatorial candidate, and Charlie Crist, Florida's 1998 Republican Senate candidate. Clinton campaigned for the former governor over the weekend and produced this ad:
The Florida GOP responded with this ad, which cuts between '90s Crist declaring, "I think that if Bill Clinton would go ahead and resign we'd all be better off," and current-day Crist calling him "a great president":
In addition to making Clinton's election-eve rally with Crist pretty awkward, the spot reminds voters that Crist is a Republican turned independent turned Democrat.
Scrapping Senators
Dan Sullivan, Alaska's Republican Senate candidate, is being overshadowed by bickering between the two people who already hold the job. The spat over Democratic incumbent Mark Begich refusing to stop using Republican Senator Lisa Murkowski's photo in campaign ads has been getting increasingly personal. This week, Begich claimed Murkowski just didn't like the picture, and she accused him of sexism.
"I think she is doing what the Republican national party wants her to do — and that is get in there and drag this guy [Sullivan] across the line because he can't do it himself," Begich told Politico on Wednesday. Murkowski responded: "I am offended that Mark suggests that I simply do what I am told. I can think for myself, and I demonstrate that every day." She added, "It is Mark who keeps trying to latch onto me." She's also sorry that Begich is so jealous of her, but she can't help it that she's so popular with their constituents.
Poor Retirement Planning
During a debate on Wednesday night, Louisiana Senator Mary Landrieu attacked her Republican challenger, Bill Cassidy, for voting to raise the Social Security benefit age to 70. Landrieu noted that in Madison Parish, one of the poorest areas in the state, male life expectancy is only 69.3 years, compared to the national average of 76.4 years.
"So you expect them to work their whole life, pay into Social Security and earn benefits and get nothing back?" Landrieu said.
"Someone in Madison Parish can still retire at 62," Cassidy answered. "That won't change." Problem solved!
Marriage Problems
In an effort to counter claims by Democratic Representative Sean Maloney that she is an extremist, Nan Hayworth, the Republican running for his upstate New York seat, released an ad featuring her son Will, who is gay:
Now Hayworth has drawn the ire of the Human Rights Campaign, which is not impressed by the fact that she behaved like a parent should. "Of course Nan Hayworth loves her gay son. That's not what's at issue here," said David Stacy, HRC's government affairs director. "The problem is her lack of support for legal protections provided by marriage for everyone else who isn't lucky enough to be related to an elected official. When Nan Hayworth had the chance to be a true fighter for LGBT issues in Congress, she was AWOL."
When she served in the House, Hayworth did not support legislation that would have repealed the federal same-sex marriage ban. Now Hayworth thinks states should recognize same-sex marriages performed elsewhere and supports the recent Supreme Court decision that kept in place lower court rulings legalizing same-sex marriage in many states. However, she still believes that the "federal government should not impose a definition" of marriage.
Trek: Insurrection
Democrat Mary Burke has cited her successful run as an executive at Trek, the bicycle company her father founded, as one of the reasons she's qualified to be the governor of Wisconsin. However, a conservative website reported on Wednesday that she was actually fired from the family business in 1993, when she was serving as director of European operations.
Burke has said she took a two-year sabbatical, which included three months of snowboarding in Argentina, because she was burnt out. However, Gary Ellerman, the company's former human resources director, claims she was let go because her sales team threatened to quit. "She was not performing. She was (in) so far over her head. She didn't understand the bike business," he said.
Her brother John Burke, who currently runs the company, said they were reorganizing, and Mary was ready to leave. She described the claim as an attempt at "character assassination" by Republican Governor Scott Walker. "It's ridiculous," she told the AP. "It's completely false."
A Tale of Two Endorsements
Two more potential 2016 presidential candidates, senators Rand Paul and Marco Rubio, are pitching in to help Republican Scott Brown unseat Democratic Senator Jeanne Shaheen.
Rubio wrote an editorial for the Union Leader, which reads like Brown asked him for a recommendation letter even though he only made it to office hours once all semester. "Throughout my time in public service, I have worked closely with hundreds of legislators at the city, state and federal levels. But Scott Brown has been one of a kind," Rubio writes. He goes on to complain that Shaheen has voted with Obama "99 percent of the time," but notes, "She too is a decent person with whom I've had a cordial relationship and worked on some issues."
Paul, on the other hand, managed to make a more passionate case for the former Massachusetts senator in just 15 seconds. "If you're a freedom-loving, liberty-loving, 'leave me the hell alone' voter, I urge you to get out and vote for Scott Brown," he says in an ad funded by the Chamber of Commerce. It's a smart pitch, since at this point in election season, most Americans are "leave me the hell alone" voters.