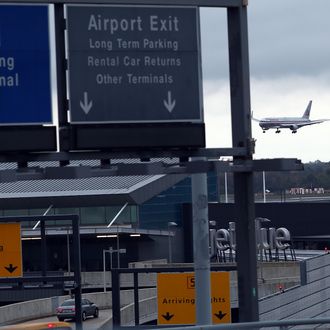 Photo: Spencer Platt/2014 Getty Images
The Department of Homeland Security announced new rules today that will govern the travel of passengers from Liberia, Sierra Leone, and Guinea, the three West African countries with known Ebola outbreaks. Starting Wednesday, all travelers coming to the U.S. from those countries will be funneled into one of five U.S. airports equipped with enhanced screening for the deadly virus.
The airports include JFK, Hartsfield-Jackson in Atlanta, Chicago O'Hare, Newark, and Dulles airport in Washington, D.C. Airlines will help passengers who were scheduled to fly into other airports rebook their tickets.
Hopefully this will quiet those calling for a blanket travel ban, at least temporarily.