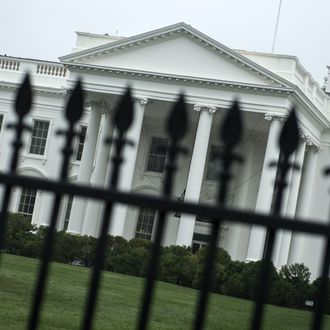 Photo: BRENDAN SMIALOWSKI/AFP/Getty Images
Just weeks after multiple security breaches that led to the resignation of the head of the Secret Service, the agency managed to stop a young man darting across the White House lawn. Officials say Dominic Adesanya, 23, of Bel Air, Maryland, jumped the north fence of the White House at 7:16 p.m. on Wednesday. "He was immediately taken into custody by canine units and Uniformed Division officers," said Secret Service spokesman Edwin Donovan.
TV news cameras captured the incident. The video below appears to show the jumper punching and kicking a dog:
The intruder was taken to the hospital with non-life-threatening injuries from a dog bite. Two K-9s were transported to a veterinarian with injuries sustained during the incident.
The attack dogs are trained to take down fence jumpers, but for some reason their handlers never deployed them when Iraq War veteran Oscar Gonzalez managed to run into the White House in September. With their impressive reliability and inability to check into a foreign hotel with unauthorized guests, they're really making their human colleagues look bad.