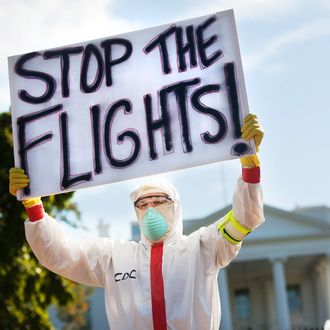 Nope.
Photo: Allison Shelley/Getty Images
This morning, Australia announced "strong controls" on all arrivals from Ebola-stricken countries in West Africa, making it the first rich nation to institute a visa ban, against the advice of health experts and the United Nations. "This means we are not processing any application from these affected countries," said Immigration Minister Scott Morrison. Australia's humanitarian program will be suspended as well, and even those with permanent Australian visas currently in Liberia, Sierra Leone, or Guinea will be subjected to a mandatory three-week quarantine before they can return.
The decision comes down from conservative Prime Minister Tony Abbott despite the fact that Australia has no documented cases of Ebola. It's all for show, and it's not smart.
"There have been people here in Australia that have been asking for this kind of approach and I think the main drive is political," Brian Owler, the president of the Australian Medical Association, told CNN. "Of course it will always be dressed up as a solution to keeping Australians safe but in actual fact the people who are coming from West Africa, a number of them are coming on humanitarian grounds so there are concerns about why their visas are being denied, and for what period of time they'll be denied for."
"It's not necessarily a very well-focused decision," Owler added. "The bigger picture needs to be on our preparedness at home but more importantly our involvement in West Africa itself, putting doctors and nurses and other logistical elements in place and trying to combat the crisis there." A visa ban does exactly the opposite, by making doctors and nurses involved in the mission into pariahs.
"The doctors from WHO, to the CDC here and other countries have indicated that the worst thing you want to do is close off the borders and come up with this sort of restrictions and scare away potential help," said former U.N. secretary general Kofi Annan. Added Anthony Banbury, head of the U.N. Ebola Emergency Response Mission, "Anything that will dissuade foreign trained personnel from coming here to West Africa and joining us on the frontline to fight the fight would be very, very unfortunate."
"This miserly, selfish and cruel announcement from the government is not a reflection of our nation's character," said a representative from the Australian Greens.
In light of Ebola cases diagnosed within the United States, some have called for similarly selfish measures that would really only serve to stoke irrational fears. Because of how Ebola is transmitted — through the body fluids of a sick, symptomatic person — air travel restrictions "[do] not reflect what is known about the way in which the virus passes between people," said a U.N. spokesperson.
What will make the rest of the world safer is containing the outbreak in West Africa. "Western countries are creating mass panic which is unhelpful in containing a contagious disease like Ebola," said a spokesperson for the Ugandan government, according to Reuters. "If they create mass panic … this fear will eventually spread beyond ordinary people to health workers or people who transport the sick and then what will happen? Entire populations will be wiped out."