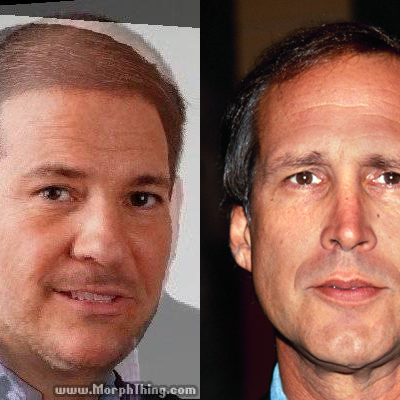 Photo: MorphThing.com; LIFE Picture Collection/Getty Images
In hopes of winning his slice of the morning, Politico media reporter Dylan Byers published a review, at 4:12 a.m., of the very first episode of a competitor's political talk show. Titled boldly "Why the Halperin/Heilemann show flopped," although it might've more accurately been called "First!" Byers's premature evaluation of the new Bloomberg Politics property begins, for reasons unknown, by conjuring the short-lived '90s flop The Chevy Chase Show, which, according to reviews at the time, had "tried everything, succeeded at nothing."
In a truly awkward rhetorical pivot, Byers writes, "Mark Halperin and John Heilemann — two men who, if morphed together, would bear an uncanny resemblance to Chase — tried everything for Monday's premiere of With All Due Respsect [sic] …," a bizarre aside Intelligencer's in-house technology has measured and proved decidedly false.
Above is a scientific rendering — thanks, MorphThing.com — showing Mark Halperin and John Heiliemann morphed together, bearing almost no resemblance to Chase other than being Some Dude (or Two Dudes Morphed Together). There is nothing uncanny about it. This is Chevy Chase: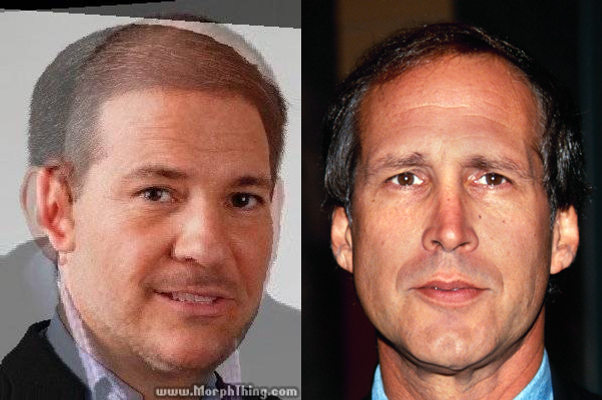 "I think I need to be consuming marijuana-laced comestibles in order to understand this concept," a strategist told Byers about the show. The same goes for reading Politico.