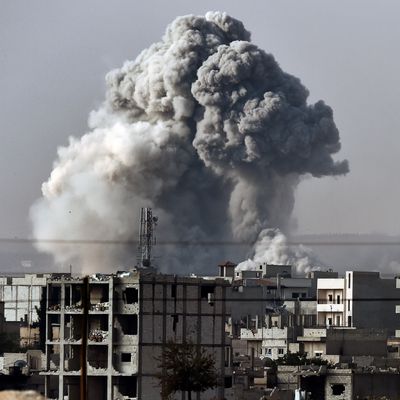 Photo: Aris Messinis/AFP/Getty Images
Turkey is still refusing to help the U.S. and its allies fight ISIS with air strikes, but it is putting its bomber jets to use somewhere else: repeatedly bombing Kurdistan Workers' Party (PKK) camps Monday, on its southeastern border near Iran and Iraq. The country says the attacks were in retaliation for PKK shelling of a Turkish army base.
That's right — instead of helping to fight ISIS, Turkey is bombing the very people who are doing just that.
Why? Because Turkey considers the PKK a terrorist organization for its three-decade-long armed struggle in favor of Kurdish self-determination. The two sides came to a tentative truce in 2013, but Turkey has been more and more antsy as the PKK stepped up its fight against ISIS. (The PKK-affiliated People's Protection Units, commonly known as the YPG, make up most of the fighters against ISIS in Kobani.) This was the first such attack on PKK camps in over a year.
In the last two days, U.S. and allied forces launched 21 air strikes on ISIS militants in Kobani, where the terrorist group has been slowly gaining on PKK forces, and Turkish inaction has strained ongoing peace talks between the country and the PKK. Since the Kobani defensive began, Kurds have been asking Turkey to at least let its own Kurds cross the border to help out in the conflict zone, even if Turkey itself chooses not to get involved. Turkey, however, has steadfastly denied those requests and will only consider helping fight ISIS if certain demands — like making the removal of Syria's Bashar al-Assad a goal of the coalition — are met.
Logic has it that Turkey should be scared with ISIS just miles from its border, since the militants respect Turkish autonomy about as much as they do that of Iraq or Syria. But Turkey is a NATO member and would have a lot of international backing should ISIS actually try to cross its borders.