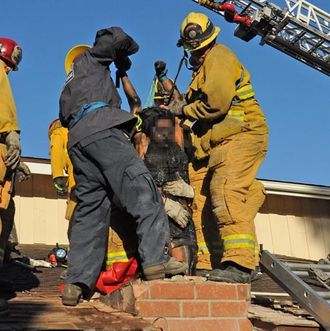 Photo: Ventura County Fire Department
Thirty-year-old Genoveva Nunez-Figueroa had gone on six dates with a man she met online, and she was ready to take their romance to the next level. So she did what anyone looking to define the relationship might do: got stuck in his chimney.
The Ventura County Fire Department in California had to break open the chimney and lubricate it with dish soap in order to extract Nunez-Figueroa, who had already been trapped inside for two hours. She was brought to the hospital and subsequently charged with illegally entering a residence and providing false information to a police officer.
Wow, they're really putting the Christmas decorations out earlier and earlier every year, aren't they.