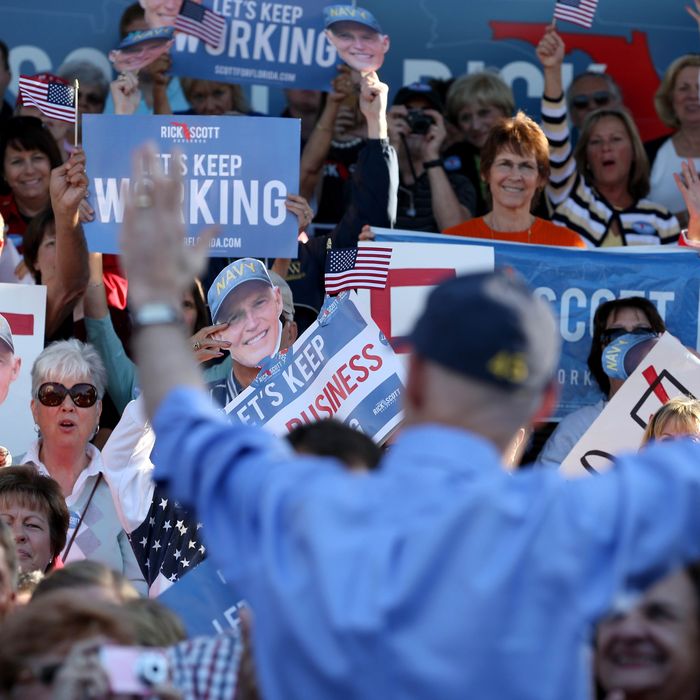 It's finally here: the 2014 midterms elections that most Americans couldn't bother to follow. Despite the general lack of public interest, there are some fascinating races coming to an end today, we swear. By Wednesday, the country may have a new party controlling the Senate, one less Republican 2016 presidential candidate, and a few more prospective swing states — not to mention a resolution to the "Kissing Congressman" soap opera. Here's what you need to know to follow the best Election Night drama.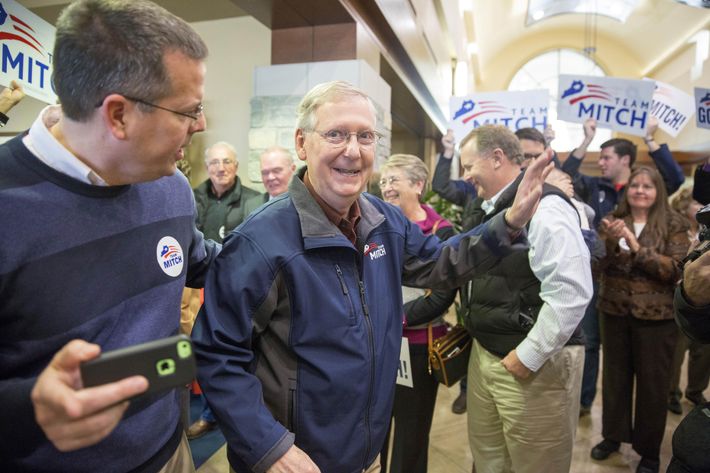 Meet the New Majority Leader?
State: Kentucky
Office: Senate
The Players: Senator Mitch McConnell (R) vs. Alison Lundergan Grimes (D)
The Story: The ultimate Washington insider clings to political life despite dysfunction because this is Kentucky we're talking about. A mostly disciplined campaign run by the well-connected young Dem doesn't change the fact that Grimes can only insist she's not Barack Obama so many times in a state Mitt Romney carried by 22 points. Just being the anti-McConnell doesn't look like it's going to be enough.
Barring a Grimes upset, and if everything else falls into place, the Mitch could become the next Senate leader, at which point prepare for some chaos. For more on Grimes's battle to topple the five-termer, read Chris Smith's profile here.
The Sideshow: Obviously Grimes voted for Obama, come on.
Polls Close: 6 p.m. Eastern and Central Time (the state is split)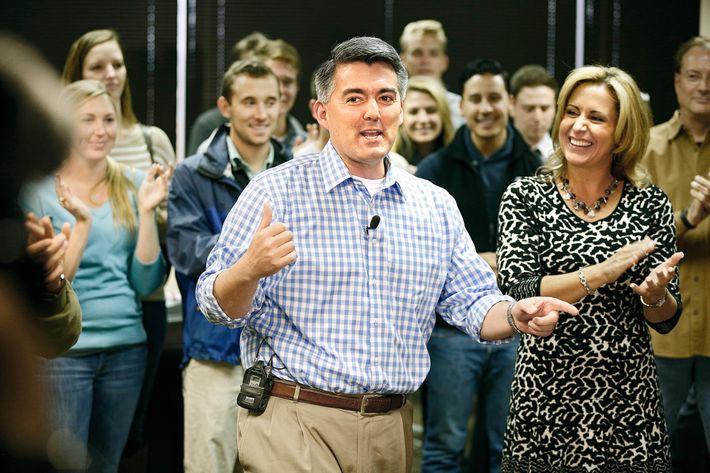 White Dudes and the War on Women

State: Colorado
Office: Senate
The Players: Senator Mark Udall (D) vs. Cory Gardner (R)
The Story: A quite conservative congressman is acting like a moderate in an attempt to sink the incumbent Democrat in a deep purple state. While Udall was the early favorite to keep his seat, the young Gardner has come out of nowhere with a strong "Udall = Obama" message that has pulled him ahead in the most recent polls.
Republican hopes of retaking the Senate hinge in part on this race. Democrats, meanwhile, are going to see if their War on Women strategy really works, as Udall has focused almost entirely on Gardner's extensive (but since partially disowned) record as a pro-life warrior:
Colorado is ground zero for a new era of politics in which women are the most important and sought-after voters. In 2010, Colorado's other senator, Michael Bennett, managed to win reelection in a brutal year for Democrats by arguing that his opponent Ken Buck was waging a war on women. Four years later, Bennett is in charge of the Senate Democrats' campaign committee, and women, who make up the majority of the state's registered voters, are likely to decide whether Udall goes back to the Senate or not.
Never mind that — look over here, says the GOP, which hopes Gardner "can provide them with a new national model, one that shows them how conservatives can use cheerful rhetoric and a strategic shift towards the center to win in purple states," as Marin Cogan wrote in her preview on the potentially telling face-off.
The Sideshow: Yes, Gardner played high-school football.
Polls Close: 7 p.m. Mountain Time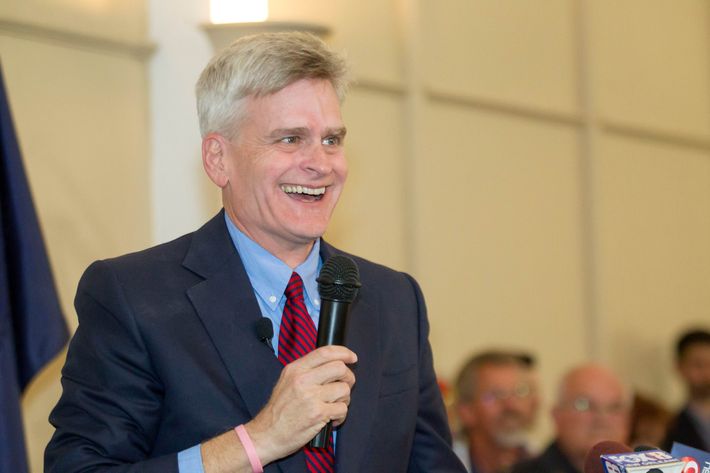 Pour One Out for Landrieu

State: Louisiana
Office: Senate
The Players: Senator Mary Landrieu (D) vs. Bill Cassidy (R)
The Story: This race is the ultimate test of whether simply linking your opponent to President Obama is enough to win this year (spoiler: probably). Though Bill Cassidy is about as vanilla as candidates come, he's managed to put three-term senator Mary Landrieu on the defensive by tying her to the White House agenda, and Obamacare particularly (Cassidy is a physician).
Landrieu is down in the polls, but she may get another chance to defend her seat. Louisiana requires the winning candidate to capture at least 50 percent of the vote, and since tea-party-backed Republican Rob Maness and some other minor candidates are pulling votes from Landrieu and Cassidy, the race is almost certainly headed for a December 6 runoff. That could mean we won't know which party controls the Senate for another month.
The Sideshow: Landrieu is not just the candidate you want to get a beer with — she actually helped a tailgater do a keg stand before a Louisiana State University game. "Binge-drinking is associated with DWIs, with traffic facilities, with death on campuses, with rape of young women, with fistfights," Cassidy lectured. "It's not something to celebrate."
Polls Close: 8 p.m. Central Time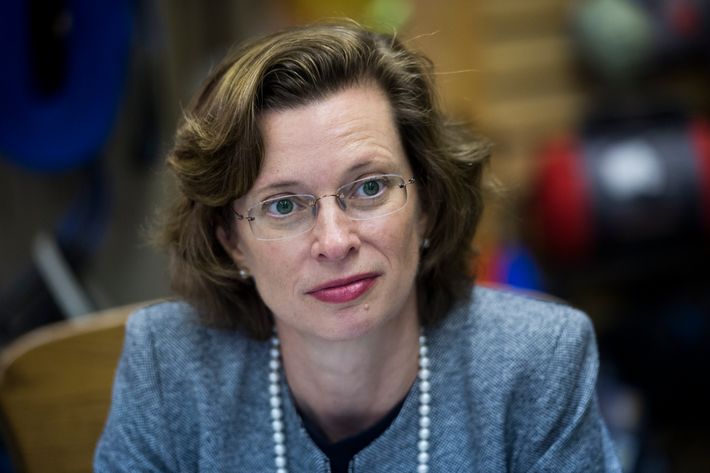 Will Georgia Switch From Red to Purple?
State: Georgia
Office: Senate
The Players: Michelle Nunn (D) vs. David Perdue (R)

The Story: The race for the seat held by retiring Republican Senator Saxby Chambliss will help determine which party controls the Senate, but it has even bigger implications for Democrats. The proportion of white voters in Georgia is decreasing, and Democrats hope that the state Obama lost by seven points or less in the last two elections can be turned purple. (Read more from Marin Cogan here.)
To pull it off, Michelle Nunn — whose father, Sam Nunn, represented Georgia in the Senate for more than two decades — needs a high turnout among African-American voters. The black share of early voters is up from the last midterm election and even matches what it was in 2012. However, Nunn may still fall a few points short. Perdue made gains among white voters in recent weeks, and among that group he's leading Nunn by about 40 points.
Polls Close: 7 p.m. Eastern Time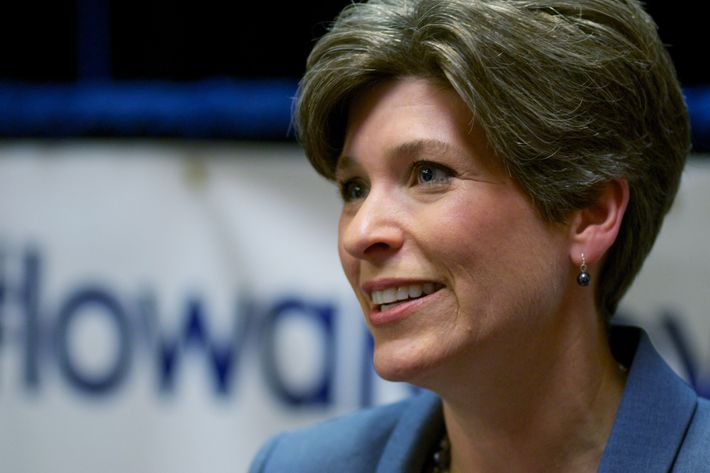 GOP Bets the Farm on Ernst
State: Iowa
Office: Senate
The Players: Joni Ernst (R) vs. Bruce Braley (D)
The Story: If you've only seen one ad from the midterms, it's probably the one in which Joni Ernst declares, "I grew up castrating hogs on an Iowa farm. So when I get to Washington, I'll know how to cut pork." The race is one of the hottest and most competitive this year, and it's critical to the Republicans' effort to take the Senate.
Ernst, who served in Iraq, would be the first female combat veteran elected to the Senate and is one of the few stars to emerge in this election cycle. It helps that Congressman Braley, who was the clear front-runner early in the race, has run a terrible campaign. As Politico put it, "It's hard to think of a candidate who's made as many high-profile gaffes as Braley." These include complaining that "there's no towel service" in the House gym and describing popular Senator Chuck Grassley as "a farmer from Iowa who never went to law school, never practiced law."
While Braley's team says internal polls show the race is tied, his campaign was dealt a blow this weekend when a Des Moines Register showed Ernst has a seven-point lead.
The Sideshow: "I don't care if she's as good looking as Taylor Swift or as nice as Mr. Rogers, but if she votes like Michele Bachmann, she's wrong for the state of Iowa," said outgoing Senator Tom Harkin. Oof. After Ernst got in her requisite outrage, she really shook it off with this:
Polls Close: 9 p.m. Central Time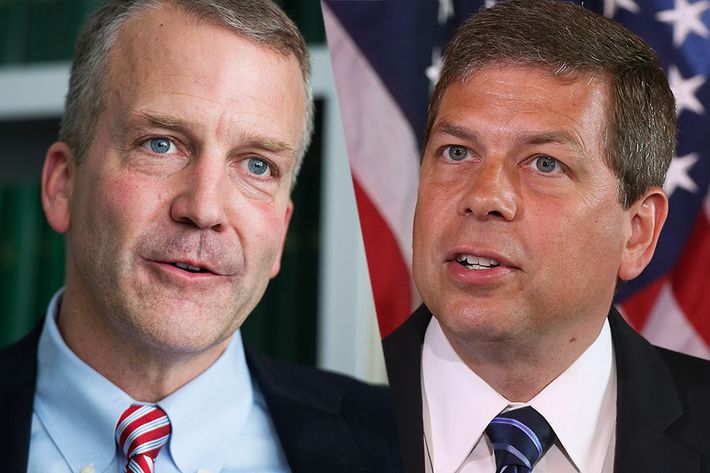 Alaska's Wild-Card Race
State: Alaska
Office: Senate
The Players: Senator Mark Begich (D) vs. Dan Sullivan (R)  
The Story: First-term Democratic senator Mark Begich's attempt to defend his seat from Republican Dan Sullivan has been hard to call throughout the race, and it looks like that trend will continue through Election Night. Begich had been behind in the polls for more than a month, but several recent surveys showed him ahead by as much as ten points.
In addition to being difficult to poll, voting returns in Alaska are often slow to come in. It's yet another reason that we may not know which party has control of the Senate until early Wednesday morning — if it doesn't come down to a runoff election.
The Sideshow: Sarah Palin, probably. Always.
Polls Close: 8 p.m. Alaska Time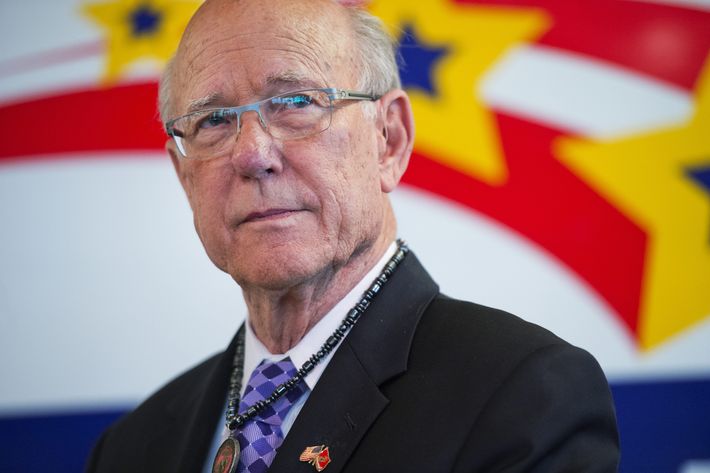 Kansas May Send Senator Back East, Permanently
State: Kansas
Office: Senate
The Players: Senator Pat Roberts (R) vs. Greg Orman (D)
The Story: Winning a Senate race in Kansas should be the least of the Republican Party's concerns, as the state hasn't elected a Democratic senator since the 1930s. However, Senator Pat Roberts, who has been in Congress since 1981, is facing an unexpected challenge from independent Greg Orman. Democratic challenger Chad Taylor dropped out of the race in September, significantly boosting Orman's chances.
Roberts didn't do himself any favors as he faced repeated accusations that he is now a resident of Virginia, not his home state. The New York Times reported in February that Roberts doesn't have a home in Kansas, and the senator defended himself on a radio show by saying, "Every time I get an opponent — I mean, a chance — I come home to Kansas."
Polls Close: 7 p.m. Central Time in most of the state. Counties may open the polls earlier and close them later, as long as they're open for at least 12 hours.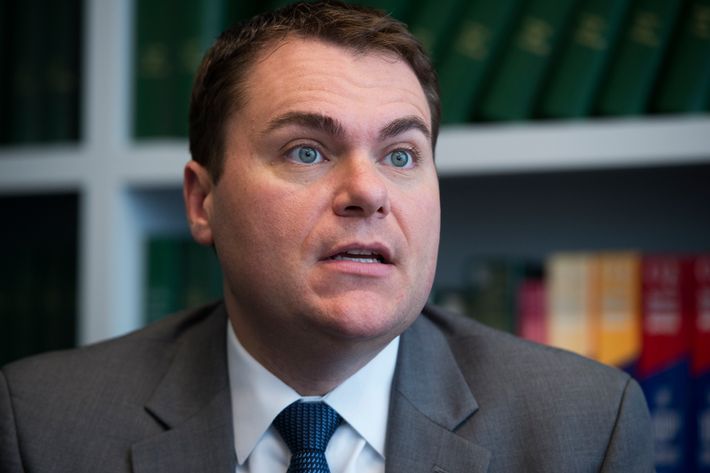 Abuse Allegations Plague Gay Republican's Campaign
State: California
Office: 52nd Congressional District
The Players: Rep. Scott Peters (D) vs. Carl DeMaio (R)
The Story: There are two openly gay Republicans running for Congress this year (the third lost in a primary), but Carl DeMaio is facing the toughest battle. Last month former campaign staffer Todd Bosnich claimed that DeMaio sexually harassed him for months, including calling him into his office and masturbating in front of him. A few days ago, a former intern said DeMaio exposed himself in a restroom. There have also been leaks of embarrassing campaign emails and allegations that Bosnich was fired and threatened after trying to stop the sexual harassment.
DeMaio has denied the allegations, and the San Diego County District Attorney's Office said there isn't enough evidence to file criminal charges. "Scott Peters continues to use false personal smears against me rather than focusing on the issues that San Diegans care about. That's why I'm not going to join him in the mud. I'm not going to worry about the false personal smears he's throwing against me," DeMaio said.
The Sideshow: See The Story.
Polls Close: 8 p.m. Pacific Time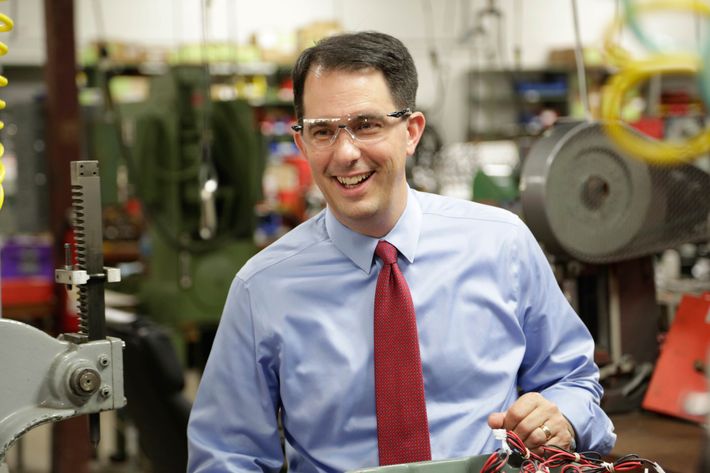 Wisconsin's High-Stakes Gubernatorial Race
State: Wisconsin
Office: Governor
The Players: Governor Scott Walker (R) vs. Mary Burke (D)
The Story: Tea-party favorite Scott Walker attracted national attention by successfully taking on public employee unions shortly after he was elected in 2010 and surviving a recall election in 2012. He's now seen as a likely 2016 presidential contender, but Democrats are hoping this election will take him out of the running. Walker is facing Mary Burke, who was an executive of the Trek Bicycle Corporation, which her father founded, and served as state commerce secretary.
The close race is seen as a referendum on Walker and the conservative policies he's managed to implement in a generally blue state (while Republicans currently control the state government, for the past 30 years Wisconsin has gone for the Democrat in presidential elections). Patrick Gleason, the director of state affairs at Americans for Tax Reform, told Slate that a Walker loss will influence Republican governors across the country. "That will send a message: Don't do this, because you very well might not survive," he said. "If Walker prevails, it's going to embolden a lot of governors and lawmakers across the country. You're going to see a lot of governors and lawmakers in other states get spines—or get stronger spines—than they had prior to Walker's re-election."
Polls Close: 8 p.m. Central Time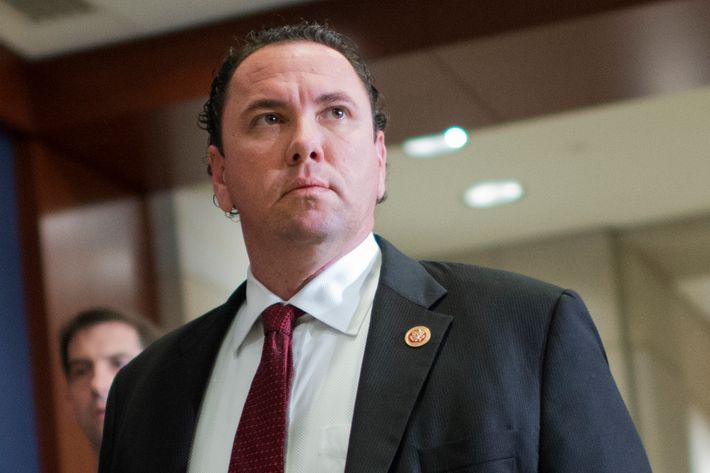 The "Kissing Congressman" Holds On
State: Louisiana
Office: 5th Congressional District
The Players: Representative Vance McAllister (R) vs. Zach Dasher (R)
The Story: The stakes are low in this race, but it's essentially the guilty pleasure of the 2014 midterms. Vance McAllister earned the nickname "the Kissing Congressman" after he was caught locking lips with a female staffer who is not his wife. After a tape of the incident emerged in April, McAllister briefly declared he wouldn't seek reelection. After eight other candidates declared, McAllister jumped back into the race in the last few weeks and released an ad in which his wife declares, "A man's character is based on how many times he gets back up and stands again." Incredibly, there's a good chance he'll make it to the runoff election.
The Sideshow: One of the other front-runners is Zach Dasher, nephew of Duck Dynasty patriarch Phil Robertson.
Polls Close: 8 p.m. Central Time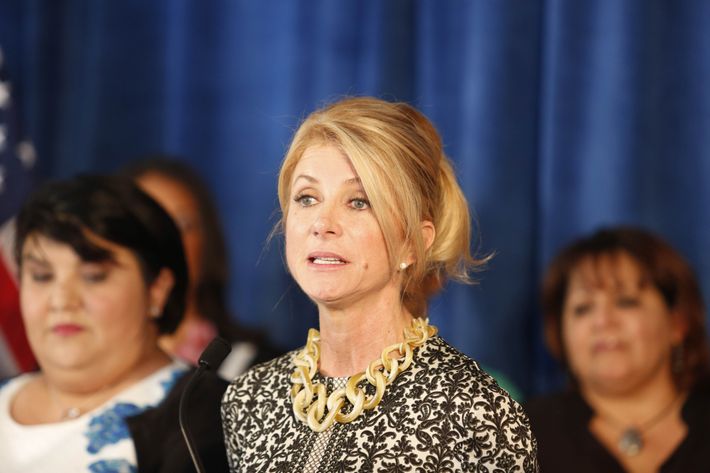 Texas Dems Try to Make the Best of Their Loss
State: Texas
Office: Governor

The Players: Greg Abbott (R) vs. Wendy Davis (D)
The Story: Wendy Davis made national headlines as a Texas state senator filibustering a restrictive abortion bill last year, raising hopes that she could become the first Democrat elected to a statewide office there in two decades. After a campaign in which she struggled to move beyond abortion rights, her prospects look bleak. A recent poll showed her trailing Greg Abbott, the state's Republican attorney general, by 16 points. In 2010 Democrat Bill White lost to Governor Rick Perry by just 13 points.
It's clear Davis isn't going to win, but now Democrats are focused on narrowing the Republicans' margin of victory. The theory is that if Davis trails Abbott by only single digits, it will give new life to the Democrats' dream of turning Texas blue and attract major donors in future elections. A loss of 15 points or more could squash those ambitions for many years and mean the end of Davis's political career — in Texas, at least.
The Sideshow: Rick Perry still thinks he can be president. Ha ha.
Polls Close: 7 p.m., Central Time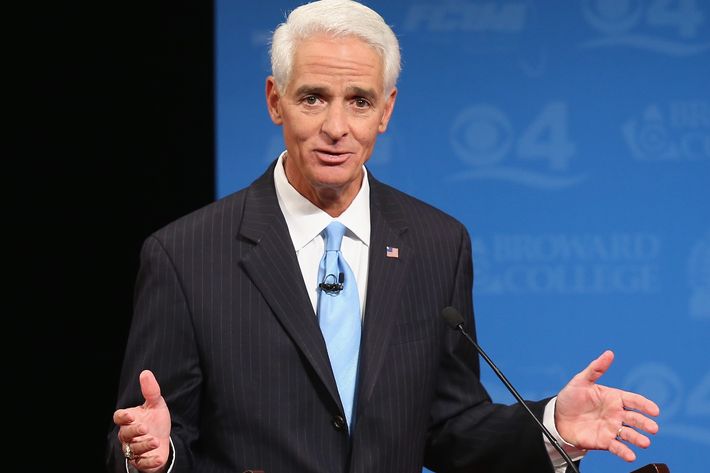 The Battle of the Unpopular

State: Florida
Office: Governor
The Players: Governor Rick Scott (R) vs. Charlie Crist (D, for now)
The Story: Charlie Crist served as Florida's Republican governor from 2007 to 2011, then opted to run for the Senate as an independent rather than seeking reelection. After losing that race to Marco Rubio and switching party affiliations again to become a Democrat, Crist has decided he would like his old job back. Thus, he and his successor, Republican Governor Rick Scott, are now engaged in what may be the nastiest and most expensive election in the nation.
The race is now one of the tightest in the country, as Scott and Crist appear to be equally disliked by Florida voters. There's already talk of a re-count and a drawn-out legal battle, so this is poised to be the most Floridian election ever.
The Sideshow: This is Florida, so pretty much the whole thing. Long live Charlie Crist's fan.
Polls Close: 7 p.m. Central / 8 p.m. Eastern