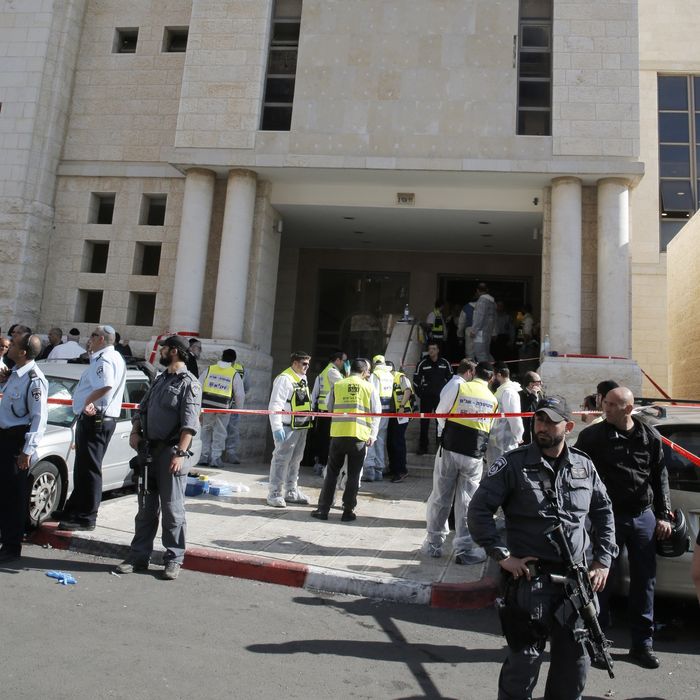 Israeli emergency services and security personnel outside the Jerusalem synagogue.
Photo: JACK GUEZ/AFP/Getty Images
Violence between Israelis and Palestinians has been ratcheting up again following the war this summer in Gaza, and on Tuesday morning Jerusalem saw its deadliest attack in years. At least four Israeli worshipers were killed when two men entered a synagogue in Jerusalem's ultra-Orthodox Har Nof neighborhood and attacked them with guns, knives, and axes. The two attackers were then killed in a shootout with police. An Israeli police spokesman identified the assailants as two Palestinian cousins from east Jerusalem, and said, "We are viewing this as a terrorist attack."
"I tried to escape. The man with the knife approached me," said a man identified only as Yossi on Israeli TV. "There was a chair and table between us … my prayer shawl got caught. I left it there and escaped." Six others were wounded in the attack, including two police officers. Four are in serious condition.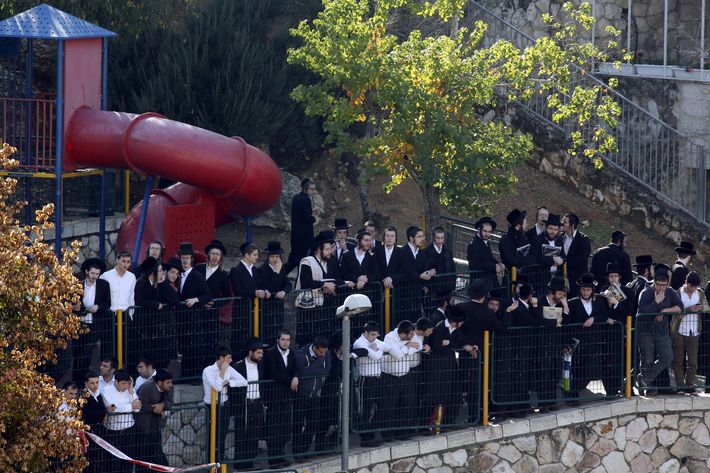 Tensions have been rising in recent weeks over a shrine in Jersusalem that Muslims call the Noble Sanctuary and Jews call the Temple Mount. There were riots yesterday after a Palestinian bus driver was found hanged in his vehicle. His death was ruled a suicide, but his family claimed he was killed by Jewish extremists.
While Hamas did not claim responsibility, they celebrated the synagogue attack and said it was a response to the bus driver's death. "The new operation is heroic and a natural reaction to Zionist criminality against our people and our holy places," Hamas spokesman Mushir al-Masri wrote on Facebook. "We have the full right to revenge for the blood of our martyrs in all possible means." Another spokesman for the organization, Sami Abu Zuhri, said, "Hamas calls for the continuation of revenge operations and stresses that the Israeli occupation bears responsibility for tension in Jerusalem."
Israeli Prime Minister Benjamin Netanyahu blamed both Hamas and President Mahmoud Abbas of the Palestinian Authority for the attack. "We will respond with a heavy hand to the brutal murder of Jews who came to pray and were eliminated by despicable murderers," he said.