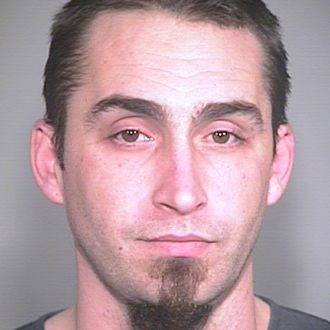 David Kalac.
Photo: Portland Police Bureau
The grisly story of a man suspected of murdering his girlfriend and posting photos of her body on 4chan, the notorious online message board, came to a surprisingly peaceful end when he surrendered to an Oregon police officer. Authorities believe David Kalac, 33, strangled his 30-year-old girlfriend Amber Lynn Coplin on Tuesday at the home they shared in Port Orchard, Washington, then drove off in her car. Though Kalac suggested in a 4Chan post that he planned to commit "suicide by cop," he turned himself in to an officer patrolling a transit center in Wilsonville, Oregon, on Wednesday night. "It's unheard of for something like this to happen," said Sgt. Nate Thompson, who took him into custody. "We are glad that it did. It's a good ending to this."
Before Coplin's murder was reported, photos that match the crime scene were posted to 4chan with the message, "Turns out it's way harder to strangle someone to death than it looks on the movies….Check the news for Port Orchard, Washington, in a few hours. Her son will be home from school soon."
According to court papers, Coplin's 13-year-old son heard his mother arguing with Kalac on Monday night and thought she was still asleep when he left for school on Tuesday morning. He discovered her body that afternoon after he noticed her car was missing. The teen called his father to the scene, and he called 911. Police say Coplin's driver's license was placed next to her head, with the word dead written on it. "She killed me first" was written on the bedroom wall, and "bad news" was scrawled on the window blinds.
Coplin's car was spotted in Portland early on Wednesday morning, but police called off the chase when the driver swerved into oncoming traffic.
Kalac has been convicted of assault, burglary, DUI, and other crimes in Washington and Virginia. He was charged with second-degree murder involving domestic violence on Wednesday and is being held on $2 million bail.