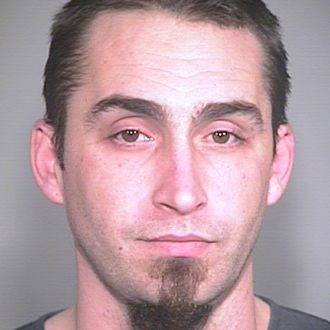 Photo: Portland Police Bureau
David Kalac, the monster who allegedly murdered his girlfriend before posting pictures of her dead body on 4chan, has a history of domestic violence, according to his ex-girlfriend Jessi Foster. Surprise, surprise.
Foster claims that when she attempted to end her relationship with Kalac, he "chased after her with a knife, knocked her to the ground and told her he wanted to murder her," according to the Daily News. Kalac was booked on harassment charges and was jailed for three months before moving in with Amber Coplin, the girlfriend he allegedly killed.
Last week, Kalac admitted to strangling Coplin in a note handed to police upon his surrender. "I killed Amber Coplin," he wrote. "I strangled her with my hands, then a shoelace. I had no reason other than I was drunk and she pissed me off. Running from the cops was fun."
Kalac faces charges of second-degree murder involving domestic violence and is currently being held on $2 million bail.