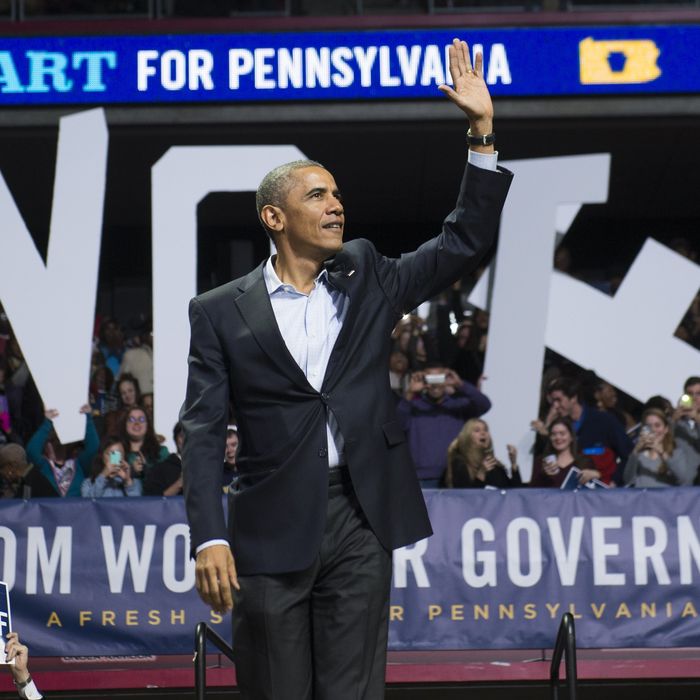 Photo: SAUL LOEB/AFP/Getty Images
Polls will open nationwide in less than 48 hours, but it's never too late to start following the midterms — just as, apparently, it's never too late to drop out of the race.
Intelligencer is rounding up the most interesting developments on the campaign trail, and this final weekend installment is filled with departures. Hillary Clinton and President Obama made their final campaign stops until the 2016 race really starts, and in Connecticut the independent running for governor quit the race and endorsed the Republican challenger. Even more shocking: Taylor Swift is the first pop star to get dragged into a midterm fight. It's like Beyoncé spent the whole summer standing in front of a giant "feminist" sign for nothing.
Last-Minute Exit
There was a dramatic twist in the Connecticut gubernatorial race on Sunday when independent candidate Joseph Visconti announced that he was dropping out of the race and endorsing Republican Tom Foley. Visconti said he made the call on Saturday after seeing a poll that showed Democratic Governor Dannel Malloy three points ahead of Foley, and Visconti in third with just 6 percent. "If I can't be governor, I want to help Tom be governor," Visconti said.
Visconti has hit the campaign trail and is encouraging his supporters to vote Foley — which is a particularly important message, as it's too late to remove his name from the ballot.
If Ukraine Can Do It …
In the last of his limited campaign appearances this season, President Obama appeared on Sunday at a rally for Tom Wolf, the Democrat hoping to oust Republican Governor Tom Corbett of Pennsylvania. "You've gotta to vote," he told the Philadelphia crowd. "I have got a simple message: we've got to vote …. Vote. Vote. Vote. Vote. Vote."
In case repetition doesn't work, Obama also tried shaming voters into going to the polls, noting that turnout is often below 40 percent in the midterms. "I mean, Ukraine just went through an election, and they have got a war going on, and they had about a 60 percent turnout," he said. "There is no excuse for us to just give away our power."
"Well I got to thinking about that. I don't care if she's as good looking as Taylor Swift or as nice as Mr. Rogers, but if she votes like Michele Bachmann, she's wrong for the state of Iowa." The small percentage of Iowa midterm voters who were tweeting about 1989 instead of doing their homework on Sunday night really appreciated that zing.
One Campaign at a Time
Sunday was also the last day on the campaign trail for Hillary Clinton, who's made 45 appearances on behalf of Democrats in the last two months. Clinton spoke at a rally for Governor Maggie Hassan and Senator Jeanne Shaheen in New Hampshire, a state she hasn't visited since the 2008 campaign.
Naturally, her next campaign was on everyone's mind. Politico reports that one of her supporters was heard remarking, "We can't have another one … I mean, Jeb?" Clinton laughed, but said nothing. Another man told Clinton he has "a life-sized picture" of her at home. "Well, say hello to me!" she replied. "You scare me sometimes," he told her. Once again, she chuckled and kept moving.
Presidential Pitch
Jeb Bush has steered clear of Iowa and New Hampshire, though he held a fund-raiser in Florida for Iowa Senate candidate Joni Ernst. On Saturday Ernst got a rare nod from former President George H.W. Bush, who endorsed her campaign against Democrat Bruce Braley.
"I am very impressed by Joni Ernst's dedication and service to our country," Bush told the Des Moines Register. "She is a soldier and independent leader who proved her mettle leading 150 Iowan troops in Iraq — and who will continue fighting for those who have worn our nation's uniform. I have total confidence Joni will make Iowa proud in the United States Senate, and I'm very pleased to endorse her."
Swift Voting
Presidential endorsements are all well and good, but retiring Iowa Senator Tom Harkin found a more effective way to generate some buzz for Bruce Braley: reference Taylor Swift.
"In this Senate race, I've been watching some of these ads," Harkin said in a video BuzzFeed discovered. "And there's sort of this sense that, 'Well, I hear so much about Joni Ernst. She is really attractive, and she sounds nice.'" (At 18:10 in the clip below.)