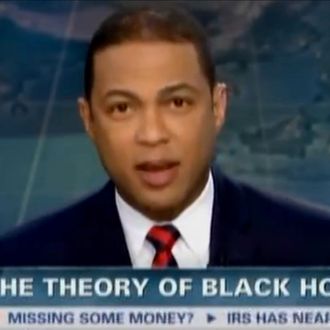 You know the old saying "When life gives you lemons, say something stupid on live television"? CNN anchor Don Lemon sure does. In honor of this morning's catastrophic foot-in-mouth moment, here are six of our favorite Don Lemon gaffes.
1. That time he genuinely wondered if Flight 370 could've been swallowed by a black hole.
2. That time he compared a real prisoner of war to a fictional character from the Showtime series Homeland.
3. That time he got into a really tense shouting match with Talib Kweli about CNN's Ferguson coverage.
4. That time he couldn't tell the difference between automatic weapons and semiautomatic weapons.
5. That time he told black people they shouldn't wear baggy pants, use the N-word, litter, drop out of school, or have kids out of wedlock.
6. And of course, that time he told a rape victim she could've easily shut down the alleged rape by biting Bill Cosby's penis.