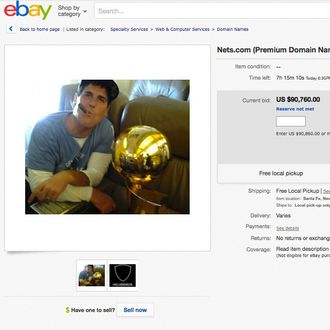 The mysterious owners of Nets.com have long trolled Brooklyn Nets fans by redirecting visitors to sites like the Knicks' All-Star Ballot and a photo of Mark Cuban sticking his tongue out. But nobody knew who actually owned the domain … until now.
The Times reports that 69-year-old Jane Hill and her son John are the proprietors of the trollish site that has long vexed sports bloggers and Nets fans alike. Since purchasing the domain in 1996, they've tried to sell Nets.com to the Brooklyn Nets, most recently for the paltry sum of $5 million (the team rejected the offer).
"The one compliment I take to heart is when people say, 'This is the ultimate troll,'" John told the Times. "There's some joy in that."
The duo now have Nets.com redirecting to an Ebay auction for the domain; if you want to buy Nets.com, the current bid is at $90,760.