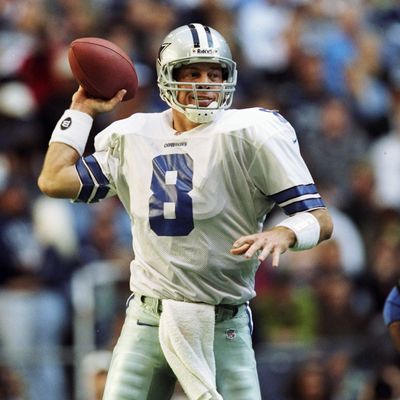 Troy Aikman.
Photo: Stephen Dunn
LeBron James made headlines this week when he said that he won't let his sons play football because of the health risks. In this era of increased awareness about the long-term effects of playing the game, even President Obama has said that if he had a son, he wouldn't let him play pro football, though he'd consider letting him play on the youth level. But what about guys who actually made a living in the NFL? Even some of them — including more than one Hall-of-Famer — have said that they wouldn't let their sons play the sport.
Troy Aikman
The Hall of Fame Cowboys quarterback told HBO's Real Sports, "I think that we're at a real crossroads, as it relates to the grassroots of our sport, because if I had a 10-year-old boy, I don't know that I'd be real inclined to encourage him to go play football, in light of what we are learning from head injury."
Bart Scott
The former Jets linebacker told the Daily News in 2012, "I don't want my son to play football. I play football so he won't have to. With what is going on, I don't know if it's really worth it."
Jermichael Finley
The Green Bay tight end, who suffered a spinal-cord injury in 2013, was asked by a viewer during a TV interview if he had advice for her 8-year-old son. "Play the game of football, it's fun," he said. But when asked if he'd let his own sons play the sport, he said he wouldn't: "Not at all, you said an 8-year-old, someone else's kid. I didn't say mine. It would be different, but I'm not going to let my kids play just cause of the things I've been through in the game and what he has seen so, they can play tennis, golf and all of that, soccer."
Adrian Peterson
Peterson, who has a curious sense of what is and isn't safe for his kids, told a TMZ cameraman that he wouldn't let his son Adrian Jr. play the sport, though he didn't elaborate on why.
Terry Bradshaw
The former Steeler and current broadcaster told Jay Leno in 2012, "If I had a son today, and I would say this to all our audience and our viewers out there, I would not let him play football."
Rashean Mathis
The Lions cornerback said last month that he doesn't want his 2-year-old son to get into football. "I don't want him to. He doesn't have to play any sport, as far as I'm concerned, but if he does get into it, football will be the last thing I introduce him to." Mathis added that he'd prefer his son play golf instead.
Drew Brees
The Saints quarterback is willing to let his sons play football … but not until they're in their teens. "At a certain age, I think it's appropriate. I think you can be too young to go out there and strap on a helmet."
Kurt Warner
The Super Bowl–winning quarterback said in 2012 that the thought of his sons playing football "scares me," and that he'd prefer they not play. He later clarified his comments, saying "it's different when you put on a parent's hat. And, yeah, I want my kids to play and I want them to be healthy and I'd love them to have a great long career whether that's collegiate, whether that's professional. I'd love all that. But as a parent I can't avoid the fact that it's a dangerous sport, and it's a violent sport."
Brett Favre
The future Hall-of-Famer was speaking in the hypothetical, since he doesn't have any sons, but he told Matt Lauer, "I would be real leery of him playing football." Added Favre: "In some respects, I'm almost glad I don't have a son because of the pressures he would face. Also the physical toll that it could possibly take on him, not to mention if he never made it, he's gonna be a failure in everyone's eyes. But more the physical toll that it could take."