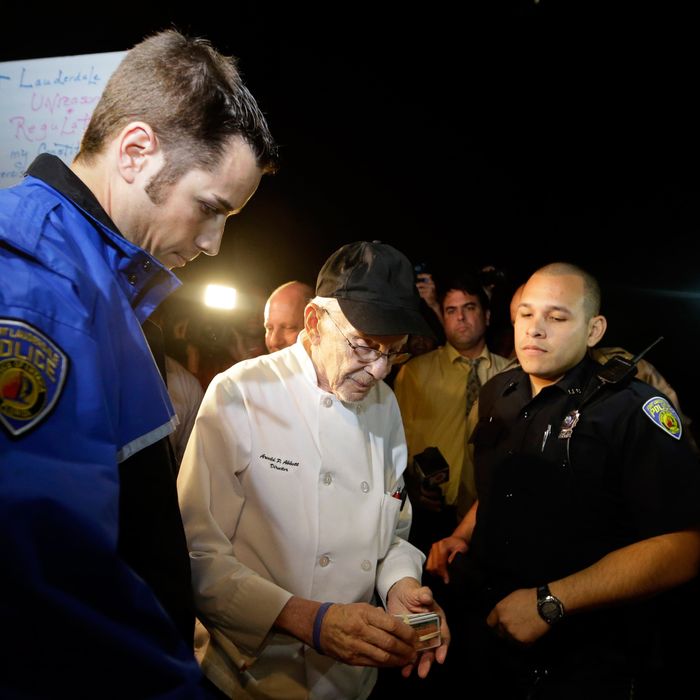 Photo: Lynne Sladky/AP/Corbis
Ft. Lauderdale police have a good many troublemakers on their hands, and chief among them is Arnold Abbott, a 90-year-old rebel who refuses to quit giving food to the homeless. Abbott runs a nonprofit called Love Thy Neighbor and was charged with violating the city's ordinance against feeding the homeless again on Wednesday night, for the second time this week.
A new ordinance in the city imposes strict and hard-to-obey rules on where, exactly, kindhearted people can provide sustenance the area's 10,000 homeless residents. Abbott was first cited for violating the law on Tuesday:

Now that he is the subject of national media attention, more details are emerging about Abbott's work. Along with other volunteers, he apparently fed more than 100 people a delicious meal, prepared at a culinary school he founded. One woman called it "the best food I've ever had on the street."
"At least this time they let us feed people first," he said of Wednesday's incident, adding that the police were "very gentle." Abbott can, however, still get slapped with a fine of $500, or even be thrown in jail for two months.
Surely someone, somewhere is already planning a Kickstarter for his legal expenses, but the man himself isn't too concerned. "This time I'll be a scofflaw," Abbott said.