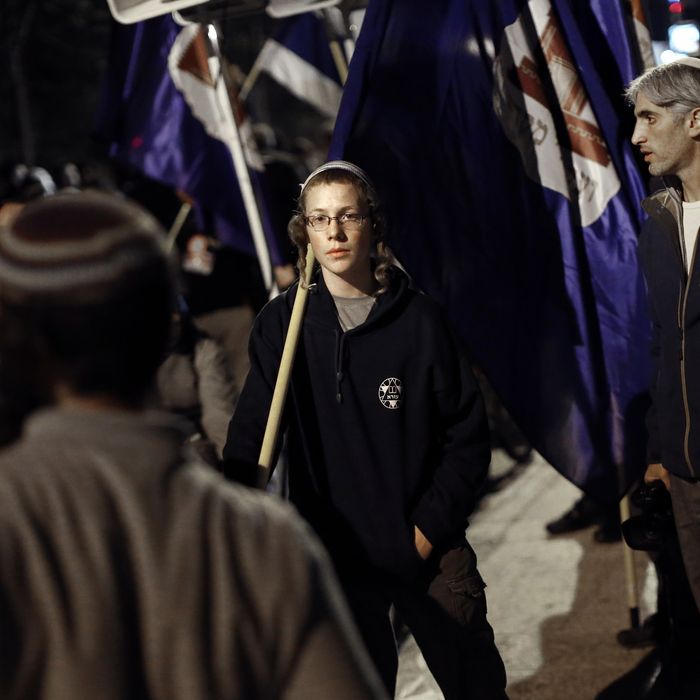 Photo: Thomas Coex/AFP/Getty Images
Heated words exchanged by Israeli and Palestinian leaders are the latest sign that the Middle East conflict is perhaps further than ever from a solution. It's almost like those Egypt-sponsored peace talks after this summer's war in Gaza had never even been planned.
The country has faced a steady stream of violence on both sides in recent days, with terror attacks including stabbings claiming several Israeli lives, and retaliatory fire at Palestinians killing several others. Adding to the tensions was Israel's quickly reversed decision to shut down access to the Temple Mount, a holy place for both Jews and Muslims, and increased focus on using it as a prayer space for Jews.
"By dividing the mosques, they are leading us to a religious war, and no one — Muslim or Christian — will accept that Jerusalem be theirs," said Mahmoud Abbas Tuesday, decrying Jewish visits to the holy site on the tenth anniversary of his predecessor's death. "Jerusalem is our capital, and there will be no concessions."
To which Netanyahu responded in a no-more-conciliatory tone: "Instead of calming tempers, he is inflaming them. Instead of educating his people for peace, Abu Mazen [Abbas] is educating them for terror attacks," the Israeli leader said. He warned Arab citizens not to "get dragged into incitement." With his reelection approaching, Netanyahu is a shrewd decision-maker with a lot to lose — and no desire to lose any right-wing street cred.
A former Netanyahu security adviser explained the latest unrest to the AP as a symptom of the convergence of the grievances of Arab citizens, lone wolf attacks, and continuing protests. "This is a huge problem. There is no intelligence," Yaakov Amidror said.
No wonder this image of Secretary of State John Kerry led to many a peace process joke: