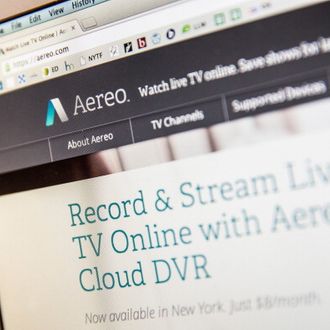 Aereo, the IAC-backed start-up that promised subscribers the opportunity to watch, pause, and record live TV on their computers, has filed for Chapter 11 bankruptcy. That crashed hard and fast, huh?
According to a letter penned by CEO Chet Kanojia, the company has found the Supreme Court's reversal of Second Circuit decision in June "difficult to overcome."
"Chapter 11 will permit Aereo to maximize the value of its business and assets without the extensive cost and distraction of defending drawn out litigation in several courts," writes Kanojia. Just a few weeks ago, the company fired its employees in Boston and New York to help "preserve the firm's resources."
It's a rather inelegant ending for a company that entertained grand notions of disrupting the cable-TV industry once and for all. Then again, Aereo was basically just a lawless antenna factory whose business model was exploiting a legal loophole.