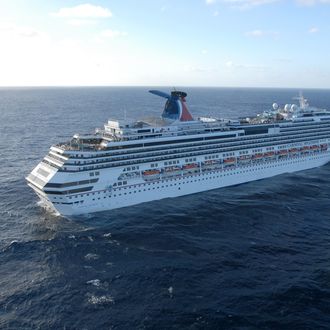 Photo: U.S. Navy/2010 U.S. Navy
Another smelly voyage on the high seas concluded Sunday morning when Princess Cruises' Crown Princess docked in Los Angeles after 172 people came down with norovirus. The disease, which causes vomiting and diarrhea, infected at least 158 of 3,009 passengers and 14 of 1,160 crew members during the 28-day cruise to Hawaii and Tahiti. The virus is very contagious, infecting an estimated 20 million people in the U.S. each year, and is especially common on this particular vessel. During a seven-day cruise in April, a norovirus outbreak sickened 129 people on the same ship.
Some passengers fell ill just a few days after the cruise began, and in the last few days there was "an increased number of gastrointestinal illnesses, caused by norovirus," according to company spokeswoman Susan Lomax. Passengers were treated onboard, and none required hospitalization after the ship docked. All passengers were notified of the outbreak and encouraged to practice good hygiene and report symptoms.
Princess Cruises has "enacted our stringent disinfecting protocols developed in conjunction with the U.S. Centers for Disease Control, which includes an extensive deep cleaning of the ship," Lomax said. An official from the CDC also inspected the ship to make sure it implemented proper sanitation procedures before setting sail again. Workers had to move fast on that "deep cleaning" because the ship embarked on a cruise to the Mexican Riviera on Sunday night.