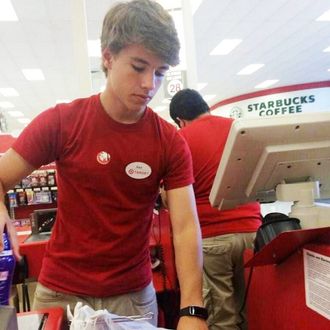 Photo: BeautifulZac/Twitter
Alex From Target, the Texas teen who became a viral meme within the course of one cashier shift at Target, has officially been frightened into agoraphobia. Congrats, internet, we did it!
The Times has a long piece about Alex's meteoric rise to fame, including all of the ups and downs that inevitably come with becoming an internet sensation. The one that struck us as the saddest, though, is the fact that an innocent Texas teen is afraid to go outside simply because every time he does he gets mobbed by randos.
"I've been in the house the entire time," he told the Times. "I'm kind of scared to go in public."
We eagerly anticipate Alex's forthcoming memoir and subsequent Lifetime movie, Trapped Inside My Own Meme.