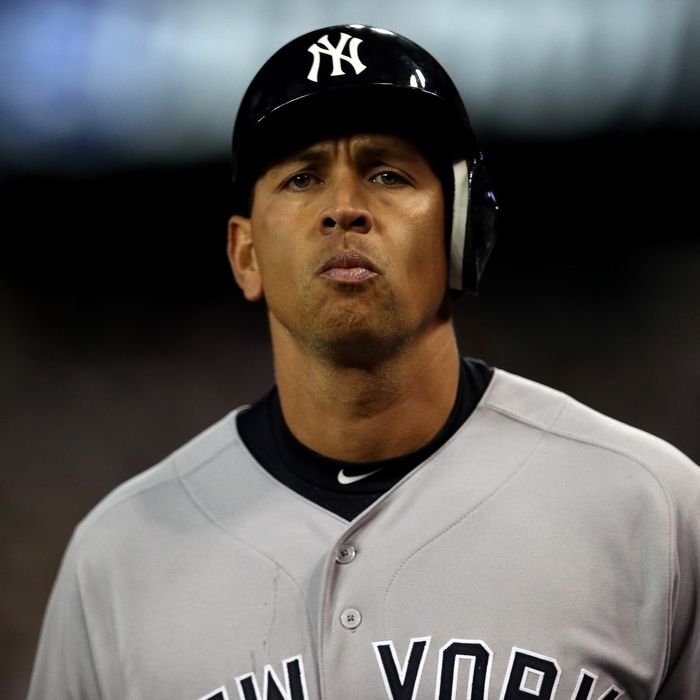 Alex Rodriguez.
Photo: Jonathan Daniel/Getty Images
Alex Rodriguez, whose season-long suspension for violating Major League Baseball's drug policy officially ended last week, reportedly admitted to the DEA earlier this year that he did indeed use performance-enhancing drugs from a Florida anti-aging clinic between late 2010 to October 2012. Though he maintained his innocence publicly, according to a Miami Herald  report he agreed to sing for the feds in exchange for immunity. He confessed to paying $12,000 a month to Anthony Bosch, the fake doctor who ran the Biogenesis clinic, and received PEDs in a number of forms.
Via the Herald, which reviewed a 15-page synopsis of A-Rod's January meeting with the DEA, in which the Yankees' third baseman gave a sworn statement:
According to a written "report of investigation," Rodriguez admitted paying Bosch for supplies of testosterone cream, lozenges laced with testosterone (aka "gummies") and human growth hormone injections.

"Rodriguez injected the HGH into his stomach," the DEA report stated. "Rodriguez said Bosch told him the HGH would help with sleep, weight, hair growth, eyesight and muscle recovery."
Bosch also gave A-Rod advice on how to beat MLB drug testing: "Bosch advised him to only use mid-stream urine for MLB drug testing. Bosch told Rodriguez not to use the beginning or the end urine stream."
That immunity, of course, doesn't extend to the court of public opinion, where A-Rod was long ago found guilty. Even those sympathetic to him tended to focus on the methods Major League Baseball used to build its case against him and the severity of the punishment.
A-Rod's statement is expected to help the criminal case against Bosch, and also implicates A-Rod's cousin Yuri Sucart, who acted as a middleman — and also reportedly received $900,000 from A-Rod to remain quiet about the Yankee's PED use.
Opening day, by the way, is just five months away — plenty of time for opposing fans to perfect their chants of "mid-stream urine" for when the Yankees come to town.