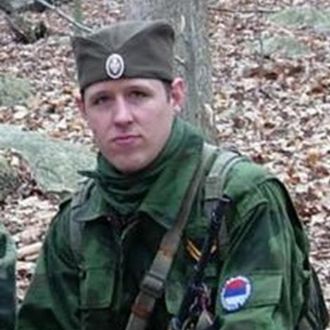 We now know the possible motive of Eric Frein, who's accused of fatally shooting a Pennsylvania state trooper and wounding another, and it led to additional terrorism charges. Police say that when they captured Frein following a 48-day manhunt, he described ambushing the two officers as an "assassination" and said he did it to "wake people up." They say he explained he wanted to make changes in the government, but "voting was insufficient to do so, because there was no one worth voting for."
Based on that claim, the 31-year-old survivalist was charged with two counts of terrorism on Thursday for committing "a violent offense intending to influence the policy of the government by intimidation or coercion" and "intending to affect the conduct of government," CNN reports. He was already facing a long list of charges, including first-degree murder and making and possessing a weapon of mass destruction for constructing pipe bombs.
Investigators claim Frein waived his right to remain silent; however, his lawyer, James Swetz, says everything he said in the police interview may be inadmissible. Swetz, who was hired by Frein's family, says he was turned away on the night he was captured. "I was told, 'He's an adult and has not asked for a lawyer,'" Swetz said. They state says police are not required to tell a suspect that an attorney wants to see them. Prosecutors are seeking the death penalty.
Authorities also released a letter addressed to "Mom and Dad," which they say was found on a storage drive in the abandoned airplane hangar where Frein was captured. In it, Frein appears to describe how he wants to be buried, and elaborate on his plan. It reads:
Our nation is far from what it was and what it should be. I have seen so many depressing changes made in my time that I cannot imagine what it must be like for you. There is so much wrong and on so many levels only passing through the crucible of another revolution can get us back the liberties we once had. I do not pretend to know what that revolution will look like or even if it would be successful.

Tension is high at the moment and the time seems right for a spark to ignite a fire in the hearts of men. What I have done has not been done before and it felt like it was worth a try.
The letter concludes with an apology. "You guys are great parents, I am just not a good son. I squandered so much opportunity and support and rarely tried my best at anything," it reads. "God knows I do not deserve the things I had, maybe He knew I would be sacrificing all of it in the end, or maybe this is just the final squander. Who knows."