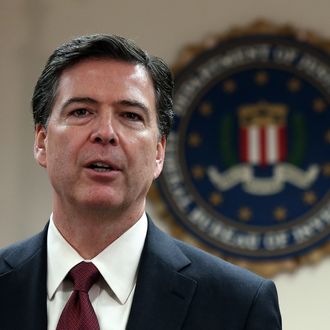 FBI director James Comey.
Photo: Justin Sullivan/Getty Images
The Associated Press remains (rightfully) pissed over last week's disclosure that, in 2007, an FBI agent pretended to be an AP reporter in order to catch a 15-year-old who had threatened to bomb his high school. (The agent asked the teen to "review" a fake online wire story about the threats, which allowed the FBI to locate his computer.) FBI director James Comey brushed off complaints about the incident, describing it as a "technique" that was "proper and appropriate under Justice Department and FBI guidelines at the time," but the AP wants a promise that this kind of thing will never happen again.
In a letter addressed to Comey and Attorney General Eric Holder, AP President and CEO Gary Pruitt demanded to know who signed off on the impersonation, as well as whether the FBI has carried out similar operations since:
[The] AP's "legacy of objectivity, truth, accuracy and integrity" has been degraded, he wrote.

"In stealing our identity, the FBI tarnishes that reputation, belittles the value of the free press rights enshrined in our Constitution and endangers AP journalists and other newsgatherers around the world," he wrote. "This deception corrodes the most fundamental tenet of a free press — our independence from government control and corollary responsibility to hold government accountable."
Comey also noted that, perhaps most important, the FBI's stunt (or stunts) "erodes our ability to gather news by intimidating sources who might otherwise speak freely with our journalists." This isn't the first time that Pruitt has called out the FBI for interfering with the work of the AP and, based on Comey's attitude so far, it seems likely that it won't be the last.