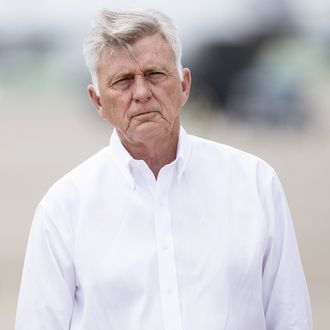 Photo: Brendan Smialowski/Getty Images
The second-best thing about having a governor for a dad is getting into all the fancy parties. The first-best thing is having him pardon you for drug charges you racked up in your early 20s.
CNN reports that Arkansas governor Mike Beebe plans to pardon his own son, 34-year-old Kyle Beebe, who was arrested in 2003 for possession of marijuana with intent to deliver. He received a fine and three years' probation, but a pardon would scrub the offense from his record. The governor has already granted over 700 pardons during his tenure, mostly for nonviolent offenses.
"Mr. Governor, I am asking for a second chance at life. I am asking for a second chance to be the man that I know that I can be," Kyle Beebe wrote in a letter asking for the pardon.
Also, dad, you totally promised you would do this for me if I didn't tell mom that it was really you who scratched the Range Rover! he added.