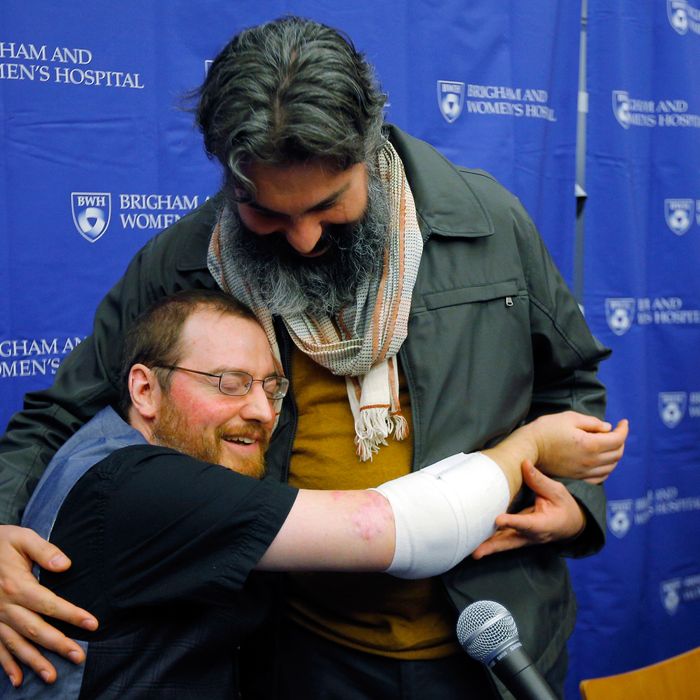 Will Lautzenheiser (L) hugs his partner Angel Gonzalez at a news conference to announce Lautzenheiser's successful double arm transplant at Brigham and Women's Hospital in Boston.
Photo: Brian Snyder / Reuters
After Will Lautzenheiser lost both legs and both arms during a bout of streptococcal infection in 2011, it didn't look like the film professor would ever be able to hug anybody again. But that all changed last month, when the Boston resident received a double arm transplant at Boston's Brigham and Women's Hospital.
Lautzenheiser thanked the donor's family and his doctors for their "great service" during a press conference Tuesday, adding that his new arms are "incredible" and "surreal." Thirteen surgeons and 22 other medical staffers worked on Lautzenheiser during the rare, nine-hour surgery, which the hospital had performed only a couple of times before.
He doesn't yet have a full range of motion with his new arms, and is still somewhat encumbered by bandages and casts left on post-surgery. At the press conference, though, he was able to give his partner a hug — which, it turns out, is exactly what the donor's family wanted.
"Our son gave the best hugs," said the family, which wanted to remain anonymous. "We pray that you make a wonderful recovery and that your loved ones will be able to enjoy your warm embrace."