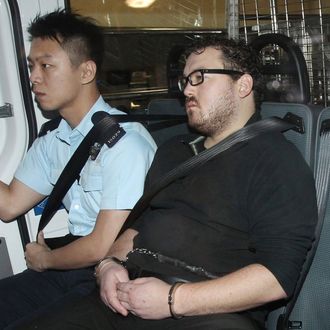 Photo: Apple Daily/epa/Corbis
Rurik Jutting, a 29-year-old British banker who recently quit his job at Merrill Lynch in Hong Kong, was charged on Monday with the murder of two Indonesian prostitutes, one of whom he stuffed into a suitcase and left out on the balcony of his luxurious apartment building. Jutting, whose chin-strap facial hair makes us think he probably posts a lot on men's-rights websites, called the cops to his high rise on Saturday and admitted to the murders.
Both of Jutting's victims were found dead with neck wounds, and a knife was taken from the scene. Jutting led a lavish lifestyle that included earning a six-figure salary and dining with "Asian beauties" at exclusive restaurants, earning his murderous streak an American Psycho comparison. A cursory glance into his dead eyes makes that estimation seem pretttty accurate.