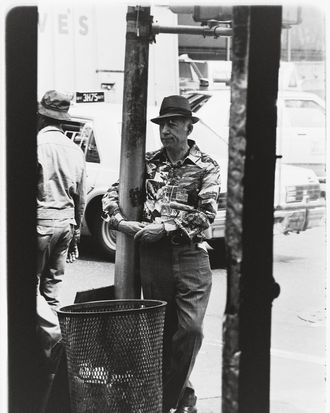 East Brunswick, New Jersey, is about halfway down the Turnpike from New York, and it doesn't have passenger rail service into the city. To come in by public transportation, you have to take a bus, and that means, usually, a trip through the Port Authority Bus Terminal — then as now, one of the dreariest buildings in town. In the 1970s, Sheldon Nadelman did that commute daily, while working as a bartender at the Terminal Bar, directly across from the Terminal at the corner of 41st and Eighth. (Nadelman's father-in-law owned the bar, and the son-in-law needed work.) It was an old saloon with '40s neon out front, gone to seed and streaked with grime, like most of the neighborhood.
Nadelman was not solely a bartender; he had studied photography, and in 1972, living in the Village and saving up for the house in Jersey, he began taking pictures at his job. Portraits of regular bar customers, mostly, but also onetime drop-ins, scenes outside the window, the food concession, even the trash can out front, which provided a kind of anchor to the endlessly shifting street scene. For ten years, he took pictures — a lot of pictures — as he moved along in his life. He and his wife had kids; they bought the house in East Brunswick, whereupon his daily trek through Port Authority commenced. The bar closed down in 1982, whereupon Nadelman became more or less a full-time New Jerseyan, moving on to other jobs. The building that housed Terminal Bar itself became terminal soon after, replaced by the immense New York Times tower.
In the early 2000s, his grown son Stefan began sorting, scanning, and printing his dad's negatives, and very quickly realized that the scene at Terminal Bar had become a historic artifact. That New York was fading fast — it was just about gone, in fact — and Sheldon Nadelman had caught it all.
The result was a documentary, and now Terminal Bar: A Photographic Record of New York's Most Notorious Watering Hole, just out from Princeton Architectural Press. The individual photographs of bar patrons are pretty good, but it's the aggregation that really makes this book: the giant slice of sooty, sticky-floored life that this photographer grabbed, in all its mealy, memorable texture. We've reproduced 12photos from the trash-can series here.