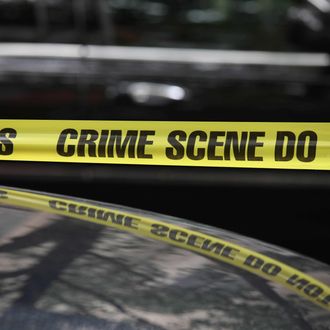 Photo: Rob Kim/Getty Images
On Wednesday, the NYPD's impersonation unit arrested 47-year-old Walter Barnes for posing as a cop and sexually assaulting an 18-year-old girl. According to the police, Barnes pulled up next to the victim on October 2, on the corner of Gates Avenue and Broadway in Bushwick. He asked her where she was going and, after she told him she was headed to buy cigarettes, offered her a ride to the store. Once the teen was in Barnes's car, he began speaking "police jargon" into a handheld radio and pointed to an NYPD van that happened to be passing by, telling the victim that he knew the officers inside. He then told her that she would be arrested if she didn't "perform a sex act" on him.
From the Daily News:
He drove them to Aberdeen St. and Bushwick Ave. in Bushwick, where the woman fearfully complied to his demand.

But the young woman's torture wasn't over yet. After the sick act was done, Barnes drove half-a-mile to Sherlock St. and Herkimer St. in Cypress Hills, where he again made the same threat, according to police.

The terrorized woman again submitted, but when Barnes tried to tear her clothes off and force himself on her authorities say she fought back and managed to escape.
Barnes, who has already served time in prison for raping two teenage girls in 2002, has been charged with rape, aggravated sexual abuse, and impersonating a police officer. "He's a bad, bad dude," said an NYPD source, just in case you hadn't figured it out on your own.