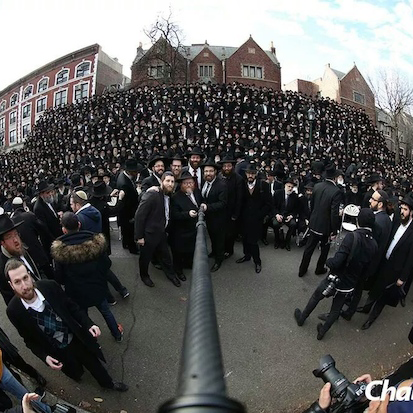 More than 2,000* Orthodox rabbis tried to win the selfie game by taking one with all of them together during this weekend's 31st annual Conference of Chabad-Lubavitch Emissaries in Crown Heights. They claim it's the largest selfie ever taken, but, unfortunately, Guinness World Records doesn't yet have a category for such a feat.
To fit into one frame, the rabbis — all clad in the typical black and white — had to arrange tiered chairs in front of the Chabad-Lubavitch HQ at 770 Eastern Parkway. The good news is that they didn't simply do so to snap a selfie: It's a typical arrangement for the group's annual portrait, of which the selfie was but one (delightful) part. And as an additional bonus, there's drone footage of the gathering.
Good luck finding yourselves in that photo, guys.
*This post originally stated that there were 4,200 rabbis in the photo. In fact, the conference had 4,200 attendees, but only about half were in the image.