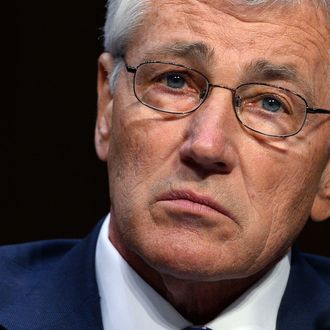 Photo: JEWEL SAMAD/AFP/Getty Images
Chuck Hagel isn't going to be Defense secretary anymore. The New York Times reports that he's resigning "under pressure" after less than two years in charge of the Pentagon.
It turns out that Hagel, a Vietnam veteran and Republican critic of the Iraq War, just wasn't up to the job. To be fair, the job has changed a bit since he struggled through his 2013 confirmation hearing. While Hagel was brought on to oversee the withdrawal of American troops from Afghanistan, the emergence of ISIS means that "the next couple of years will demand a different kind of focus," as one Obama administration official told the Times.
Sources also told the paper that Hagel was "quiet" during cabinet meetings and "struggled to fit in with Mr. Obama's close circle." Plus, he "often had problems articulating his thoughts — or administration policy — in an effective manner, and has sometimes left reporters struggling to describe what he has said in news conferences." Still, officials insist that he wasn't technically fired — instead, Obama "asked him to step down" after a "series of meetings."
The president is expected to officially announce Hagel's departure later today. Sad face.