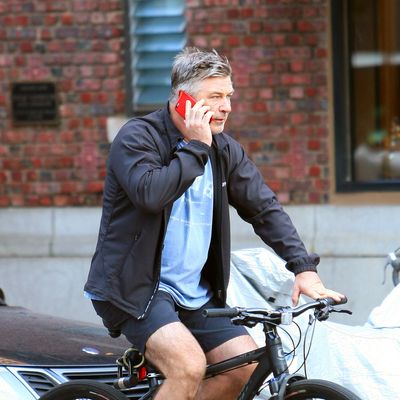 Photo: Splash News/Corbis
Hide your calls, hide your texts: The City Council is considering a new bill that would outlaw both of those activities for cyclists, putting an end to the showoff-y, "look ma, no hands" biking. Councilmember Mark Treyger's bill would slap first-time offenders who talk or text without a hands-free device with a $50 ticket, which could go as high as $200 for repeat offenders.
The bill would also ban using a tablet, or, for the very adventurous, balancing a laptop on your bike while riding. Worse, the only way for a first-time offender to avoid the class would be by taking a bike safety course.
Treyger allegedly came up with the idea when he saw a texting cyclist nearly cause an accident on Brooklyn's Stillwell Avenue, and he was absolutely furious. "I was shocked to learn that there is no law prohibiting such a dangerous practice," he told the Daily News. 
Notably, Treyger represents south Brooklyn and not the bike-loving districts up north. No doubt that in Williamsburg, some tech-savvy twentysomething is already plotting a way to redistrict Treyger out of the City Council.