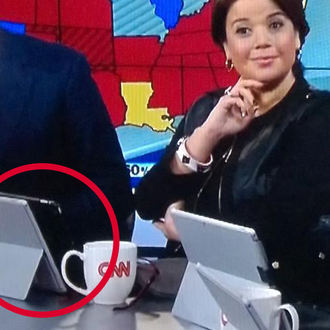 CNN's partnership with Bing and Microsoft was going great until someone switched the camera angle.
From the front, all midterm viewers could see last night was an immaculate row Microsoft Surface Pro 3 tablets:
But like a Playboy resting comfortably in a geometry textbook, there were iPads lurking:
A CNN spokesman told Intelligencer that the tablets were not part of a product-placement deal, but were just meant to give every seat access to John King's "My Magic Wall" map, which is optimized for Internet Explorer.
For everything else, there's still Apple.