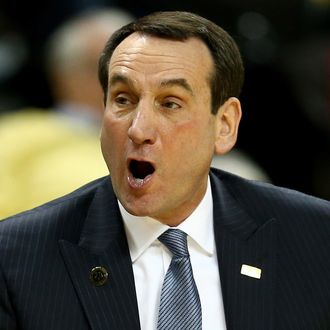 "No boots on the ground!?"
Photo: Streeter Lecka/Getty Images
Duke general Mike Krzyzewski is pretty sure he knows how war works, because sports. While speaking at the Association of the U.S. Army conference last month, Coach K told the soldiers gathered that President Obama's "no boots on the ground" promise in the ISIS fight "upsets" him "because that's like saying I'm not going to play two of my best players." Basketball metaphors are pretty much always perfect and appropriate.
Here's Krzyzewski, via the Daily Beast, which highlighted the previously overlooked remarks:
"Because that's what you are trained to do. And for decades and decades, the fact that we are a free country and we don't play home games here is a result of having boots on the ground. That's the problem." […]

"It's about letting your opponent know we are going to use our best players. And whether we use them or not, that's up to the coach. You never tell your opponent you are not going to use [them], like I'm not going to play Grant Hill, J.J. Redick, -Christian] Laettner," he said, rattling off the names of some of his biggest stars at Duke.
Of course, playing Hill, Laettner, and Reddick at this point would be the equivalent of deploying a rusty musket with a bayonet, an old-timey cannon, and a sniper that's not always accurate, but he's speaking figuratively. 
Previously, Coach K has dinged Obama with a zinger about his NCAA tournament picks: "the economy is something that he should focus on, probably more than the brackets." Maybe Krzyzewski should stick to the court, where nobody's getting beheaded.