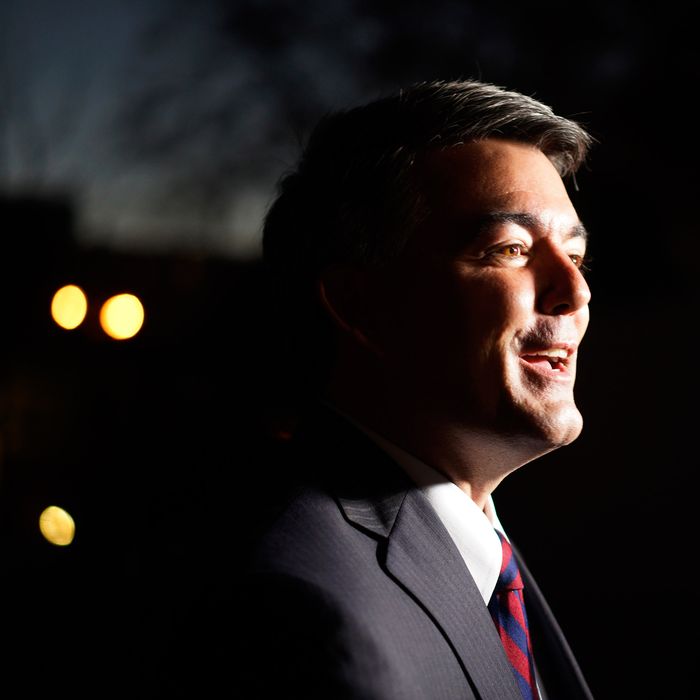 Photo: Rick Wilking/Reuters/Corbis
"I don't think it is ever enough for a governing majority to simply be opposed to things. We have to be for things," Cory Gardner is saying. He is sitting in the backseat of a Jeep Grand Cherokee driven by campaign staffer, which is lurching through downtown Denver traffic en route to tape a local public television show. He speaks quickly, leaning forward for emphasis, his seat belt stretching to accommodate his enthusiasm. It's a Thursday afternoon in late October. In a few days, voters will decide whether Gardner — a barely 40-year-old from Colorado's rural Eastern Plains — gets to be the next Senator of the Rocky Mountain state or a two-term congressman whose political ambition forced his own early retirement. "It's never enough to be no, it's never enough to be opposition," he says. He wears the expression of a guy who's just walked into his own surprise party: eyebrows lifted, a bright perma-smile revealing the feats of modern orthodontia. "You have to show that with a pivot to something that works for people."
This ebullience is a key quality of the Cory Gardner candidacy. It's what's propelled him from no-name congressman to one of the most recognizable — and controversial — political personalities in the state, practically overnight. It's what allowed him to clear the primary field of challengers by charming them over dinner at Cracker Barrel or offering to help pay their campaign debt (that and his apparent ability to raise loads of cash from the Kochs and their ideological brethren). And it's what's allowed him to claim — to the infuriation of Democrats, who say that he's lying through those pearly whites about his record as one of the most conservative members of a deeply conservative House of Representatives — the mantle of bipartisan nice guy in a year dominated by anti-Obama automatons. Before he announced he would run against Mark Udall, the Democratic Senator and son of a famous political family, Gardner would have been virtually unrecognizable in the Denver metro area, where most of the state's population lives. Seven months and countless political advertisements later, it's impossible not to have an image of him implanted in your brain: either as a black-and-white villain who is simply lying to voters or the full-color fresh face who offers Republicans one of their best chances at winning the Senate this year and charting a fresh course for 2016.
Back to what he's offering: "I've tried to convince members of my party that we should not allow the hair on the backs of our necks to bristle every time somebody mentions renewable energy." He goes on, about a plan to "structure in partnership with the federal government and the state and the university system a sort of entrepreneurial degree" that would allow students to apprentice with retiring small business owners so they can take over after the students get their degrees. He points to the education, economy, energy, and environment plans he has on his website. As written, they're light on specifics, but Gardner can talk about it — and talk, and talk — and he does, right until he reaches the front door of the studio.
He walks into the salmon-walled lobby and greets the show's floor manager, Sarah Newberry. He is wearing the campaign trail uniform of a former Senate staffer turned candidate: dark jeans, a loose-fitting blazer, and one of an interchangeable collection of blue and white button-down shirts.
"Is this all the people you have?" Newberry asks, taking in his two-person entourage. It's a small crew for a candidate running in one of the most closely watched and expensive races in the country. "We thought you were bringing a bus or … "
"This is it. I hope you're not disappointed!" he says. Newberry leads him into a cavernous studio and seats him at a table beside Jon Caldara, a libertarian Mark Levin look-alike who hosts the current-affairs show Devil's Advocate. She dabs broad, unlined face with makeup. He keeps grinning.
For the last ten years, Democrats have dominated top of the ticket races in Colorado, despite having a voter registration disadvantage. It's not an accident: it's the result of superior voter registration, canvassing, message coordinating and candidate recruitment efforts by progressive groups. Political observers called it "the Colorado Model," and it became an example of how to win campaigns that Democrats have adopted across the country. Now Republicans hope Gardner, who's led in all but two of the last 18 public polls, can provide them with a new national model, one that shows them how conservatives can use cheerful rhetoric and a strategic shift towards the center to win in purple states.
Still, Gardner has reason not to be overconfident. His opponents have their own model for victory, one that makes it impossible to discuss the campaign without talking about one issue above all others.
A tinny guitar intro leads the show. After a beat of introduction, Caldara cuts right to the issue that has defined the race. "I didn't know you were that uterus crazy … so let's just get it out of the way: personhood," he says. He's talking about bills put forward by anti-abortion groups in Colorado — bills Gardner supported until he announced he was running for Senate — to define fertilized eggs as people, which doctors warn would make abortion and some forms of birth control illegal. "Go."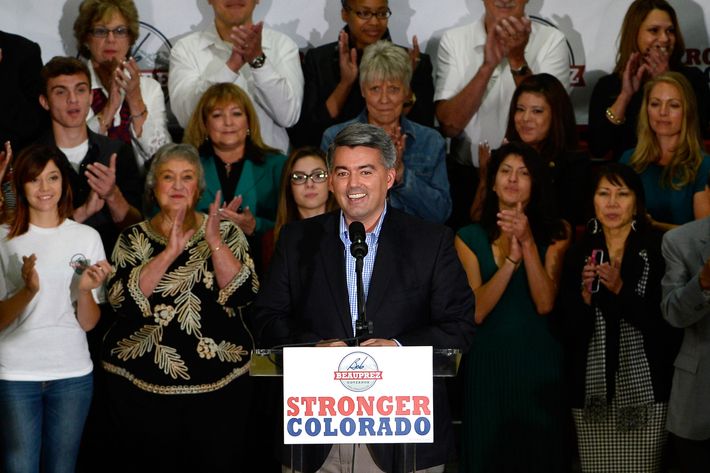 Two days earlier, a few hundred Democrats squeezed into the ballroom of a Sheraton Hotel nine miles west of Denver to hear former president Bill Clinton stump for the state's Democratic roster. Like all of his campaign stops, Clinton was the main event, but what was different about this rally was the speakers that opened for the Democratic slate.
"I shouldn't be here right now. I actually graduated from high school four months ago," said Sarah Sibley, a field organizer for the Colorado Democrats. "I'm supposed to be in college right now." Sibley, a dark-haired young Democrat in a patterned cardigan and silver earrings, told the crowd she had her boxes packed in August, and was ready to depart for college, when she realized she needed to stay home and be a part of the effort to make sure that Udall retained his Senate seat. "I told my mom, much to her surprise, that college would have to wait a year — this race was just too close for me to leave behind. I knew that if I was gone in college I wouldn't have the time to work on this race. If I left, I'd be letting the outcome be decided for me." After she spoke, Brittany Petterson, a 32-year-old state representative from Lakewood, warmed up the crowd with an anti-Koch brother jeremiad aimed at the Republican candidates.
"Cory Gardner is worse than Michele Bachmann!" Jodi Lundin told me between speakers, referring to a 2012 National Journal ranking of Gardner as the tenth most conservative member of the House (by the following year, he'd slipped to 98th). As the deputy director of Colorado's NARAL, Lundin has been intimately involved in the effort to hang Gardner's political career on his support for Colorado personhood proposals. In March, three weeks after declaring his candidacy, Gardner told the Denver Post that despite his past support for personhood initiatives, he could no longer support them, because he studied the issue more closely and realized it could potentially ban contraception. Democrats quickly pointed out that Gardner was still a Congressional co-sponsor of the Life Begins at Conception Act, which Gardner says isn't a personhood bill — but both opponents and proponents of the bill agree that it is. On the day Clinton was speaking to Democrats, NARAL announced a campy $450,000 ad campaign for the final week of the election, that depicts an unlikely future in which Gardner becomes senator and bans birth control, leading to a run on condoms.
In an effort to blunt the criticism that he's anti-contraception, Gardner came out with a proposal to allow birth control to be sold over-the-counter. That would be more costly for women than having it covered by insurance, but is consistent with GOP support for religious business owners not having to cover contraception costs. "I really think their assumption is that people aren't paying attention — it just doesn't make sense. It's not how this state votes," Lundin said. "They underestimate women. It's about reproductive choice but more about economic choice, too, because if you can't control your body how can you control your life?"
That's also the argument Udall made in ads that paired Colorado's rugged landscape and rugged senator giving direct-to-camera statements about women's personal freedoms and rights to economic opportunity. "There's a reason why women and families are front and center in this campaign," he says in one. "It's not just about respecting every woman's fundamental rights and freedoms — it's that everybody deserves a fair shot at success."
The other reason: Colorado is ground zero for a new era of politics in which women are the most important and sought-after voters. In 2010, Colorado's other senator, Michael Bennett, managed to win reelection in a brutal year for Democrats by arguing that his opponent Ken Buck was waging a war on women. Four years later, Bennett is in charge of the Senate Democrats' campaign committee, and women, who make up the majority of the state's registered voters, are likely to decide whether Udall goes back to the Senate or not. Democrats like to point out that Bennett was also trailing in the public polls for much of his campaign, but through aggressive targeting and get-out-the-vote efforts, were able to survive the GOP wave. This time, they note, their organization is much larger than what Bennett had in 2010. For the first time this year, every registered voter in the state has received their ballot in the mail and the parties are watching the votes tally in real time. Republicans hold an advantage as of Monday, but Democrats hope they can narrow the gap quickly enough in the final days of the race.
Not everyone has been appreciative of the abortion-centric tone of the campaign — most notably the editorial board members of the Denver Post, which in its surprise endorsement of Gardner decried Udall's "obnoxious, one-issue campaign." But Udall is not trying to convince the editors of the Denver Post. The majority of Coloradans are pro-choice; in fact, they agree with Udall on a lot of things.
"Mark Udall is what you say you want," Clinton implored, hoping his message was heard beyond the assembled supporters. "His opponent is an attractive, articulate, good-natured fellow. Impressive. But he was voted the tenth most conservative member of the House of Representatives." He went through Udall's record and repeated his refrain, sounding a bit exasperated. "Mark Udall is what you say you want."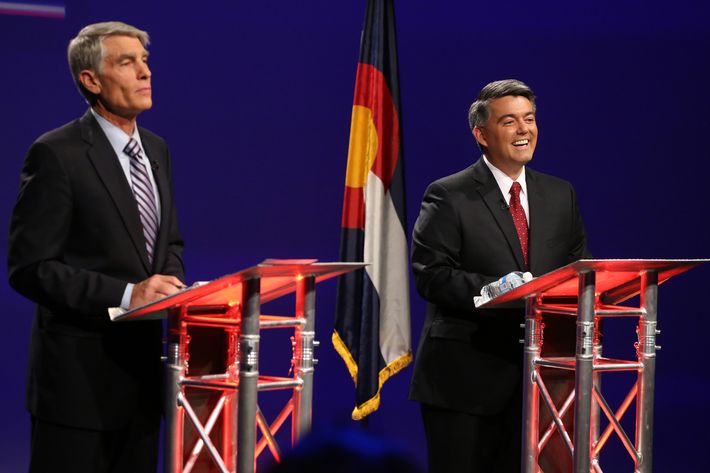 Back in the studio, Gardner is answering the personhood question: "Well, I oppose the personhood amendment. Years ago I'd said that I'd supported it— it was the wrong idea. Looking at it, talking to people of Colorado, I don't support it." It's just after 1 p.m., and at least the second time today he's answered this line of questioning. Earlier, I asked what the federal bill was meant to do, if it wasn't a personhood bill. "It's a statement that I support life," he said. But what's the point if it doesn't do anything? "Again, I think you have people who agree with it, and people who disagree with it. It's a statement of people who support life."
After declaring Udall a "social issues warrior" who only wants to divide voters with dirty politics, he and Caldara move on to less contentious subjects.
"You represent a really safe district and you could — how stupid are you?" Caldara asks. "You had a good thing — you could be a Congressman for life, you could get that pension, become a lobbyist, you could ride that gravy train!"
Gardner starts to reply with a line about how he "didn't go to Congress to put out fancy press releases," but Caldara cuts him off.
"That's wonderful political jargon. I already voted for you, you don't need to sell me,"  he says. "You're either remarkably smart or remarkably stupid."
"People have accused me of neither of those — or both of those! Or at least one of them," Gardner fires back at rapid clip, irrepressible as ever.
They run through a list of issues: The Affordable Care Act — he's for repeal and replace, though acknowledges that "the president named Obama is probably not going to repeal the bill that's named after him"; on Ebola, he favors a travel ban; on immigration, "I think some kind of earned status will be ultimate resolution to this" — though it's unclear what he means.
Caldara finally asks Gardner what he respects about Mark Udall. Asking a politician to compliment his opponent is a regular debate technique reporters and debate moderators employ in an attempt to make a dirty business seem a little nicer; the answers are usually at best faint praise and at worse comically insincere.
But when Gardner answers, it sounds surprisingly sincere. "I think Mark Udall cares deeply for this state — there's no doubt about it, he's passionate about the state, about the outdoors in this state, and I admire his family's service, his family's commitment to service. It's not easy doing what he did for 16 years and so I respect that. I don't agree with some of the things that he's done and I believe we can have better leadership in Washington … but that doesn't mean that I don't respect his service."
The cameras stop filming, Gardner and Caldara pose for a photo, and soon the candidate is bounding across the street to his car. A baritone voiced man in a sand-colored minivan pulls up beside him.
"Hey, good luck," he says. "I'm a Democrat, but good luck to you."
"That's all right!" Gardner chirps, hurrying over to shake his hand. "My dad is a Democrat and he voted for me."
"I voted for you, too," he says.
"Hey! Thank you very much!" Gardner says. "I appreciate that! God bless you."
Back in the car, heading back to his office, Gardner is describing an article he read that encapsulates what he thinks is the problem with Congress. The article was about Bill Armstrong, a Colorado Senator from the 1980s and leader of the Christian right who helped pass tax reform. He paraphrased an Armstrong quote he said had stuck with him:
"He said in this article that 'I'm firm in my principle but flexible on the details.' And I described this to Eric Cantor about a year ago. I said the problem with the party today is we are confusing principles with — not details — tactics," he says. "And Cantor started using that after I said that. If everything becomes a principle, how do we ever get anything done? "
I asked if this was his theory for governance. "I think it's a theory for governance and a theory for how we work together to solve big problems. You have to realize that every single thing can't be 'that's principle.' We can't do that. If that's the case, then we just both go to our corners we never get anything done. Republicans and Democrats are guilty of it. Heck, I'm guilty of it at times."
Even if Gardner doesn't win on Tuesday, it's difficult to imagine there won't be a crop of Republican candidates looking to replicate his campaign — with its relentless optimism and centrist-speak — in 2016, especially since the map will favor Democrats. But not all candidates can be Cory Gardner. They won't all be able to avoid a destructive primary, tack center, and withstand the barrage of attacks that come with it.
I ask Gardner if he really thinks a Senate in Republican hands will get more done. "It has to, or it won't be there. We've entered this period of time," he says, where people are so dissatisfied with government that they won't hesitate to swing control of Congress from one party to another if they don't think it's being productive. "So Republicans have to realize that this isn't some kind of — what's the word I'm looking for — a mandate or whatever for Republicans. It's a mandate against dysfunction."
Listening to him talk, it occurs to me that I've heard this line before. It was from a young lawmaker who came to Congress in a wave year, in a class of Republicans who won the majority promising to change the way Washington worked. It was Cory Gardner, member of the newly elected House Republican majority, in 2010.