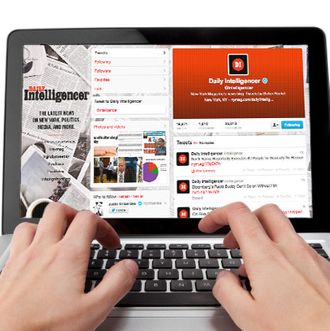 Welcome back to the New York Magazine Competition. On alternate Mondays, we lay out a challenge and offer a sample responses. Enter in the comments section, or on Twitter with the hashtag we've provided, and the editors will select a winner. Criteria are highly subjective, but heavily retweeted and favorited posts will have an advantage. The prize is a year's subscription to New York in print or a two-year subscription to the iPad edition (winner's choice). Full rules are here.
COMPETITION NO. 36: MISPLACED EMPHASIS. Please offer a familiar phrase, title, or lyric given a fresh meaning by its delivery. For example:
We didn't start the—FIRE!
Love is where? You find it.
Oh, yes, oh, God, oh, yes, oh, oh … Oh.
America's Next Top "Model"
Enter on Twitter with the hashtag #misplacedemphasis, or in the comments thread below, by December 10.
RESULTS OF COMPETITION NO. 35: REPLACEMENTS FOR "CAR TALK, IN which you were asked for the most public-radio-ish show imaginable.
HONORABLE MENTION TO:
My Granddaughter Also Lives in Brooklyn; Do You Know Her?
—JDuggar
Feelings: Ours, Yours, Theirs
—whosays
Harpsichord Hilarity
—a.steiner
White Guilt
—FlirtySanchez
Let's Be Gently Facetious!
—jhartarl
What Can I Do With All These Mason Jars?
—@mikenothnagel
Upon My Word! A Leisurely Sojourn through the Oxford English Dictionary
—BENLINUS99
That Satisfying Crunch
—jimczajka
Whales, A Cappella
—ggreg
I'm a Vegetarian—Why Aren't You?
—Irenedeblasio
Under Your Robe with Nina Totenberg
—rongilbert
Milquetoast Conversations Best Heard In A Subaru
—RegisMayhem
Indie Music You'll Want To Say You Listen To
—Wallfly

The Natural Sound Diaries
—@IanPickus

Pipetalk With Professor Elbowpatch
—MiddleCoastDan

Put the Kettle On!
—Classicist

A Solar Home Companion
—RustyShackelford

The Park Slope Co-op Call-in Mediation Hour
—@CookEatForOne  

The How to Start a Mommy Blog Show
—@emrocro

De Blasio Dynasty
—@PeterPitts

AND THE WINNER IS:
Your Afternoon Scone
—@Hey_Joe