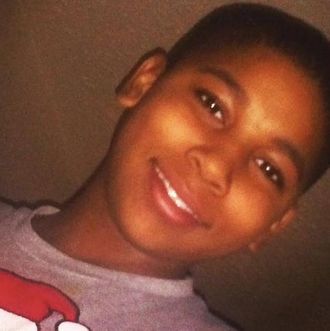 Earlier this week, Cleveland officials released surveillance footage of the shooting of Tamir Rice, revealing that the 12-year-old was shot just two seconds after police officers Timothy Loehmann and Frank Garmback pulled up to the gazebo where he had been playing with a pellet gun. (According to local reports, 26-year-old Loehmann fired the fatal shot.) The video doesn't show what Loehmann and Garmback did after Tamir fell to the ground, but WEWS-TV reports that the cops didn't try to administer first aid to the wounded boy, who died hours later at a nearby hospital.
From WEWS-TV:
Deputy Chief Ed Tomba said a detective and FBI agent who were in the area responded to the call for help and began giving medical help to Rice three minutes and 49 seconds after he was shot by rookie Cleveland patrol officer Timothy Loehmann.

NewsChannel 5 Investigators asked Cleveland officials why the two officers involved in the shooting did not immediately administer first aid.

Dan Williams, a spokesman for Mayor Frank Jackson, said all of the officers' actions are under investigation.
The news station found that Cleveland police officers take the American Red Cross HeartSaver course, which teaches them how to respond to "injury emergencies." "In other words," said reporter Sarah Buduson, "officers should know the basics about treating gunshot wounds." Tomba said he didn't know why Loehmann and Garmback didn't bother to use their training in this case.